COAS Thapa's message behind the story: changing for a better tomorrow
No ads found for this position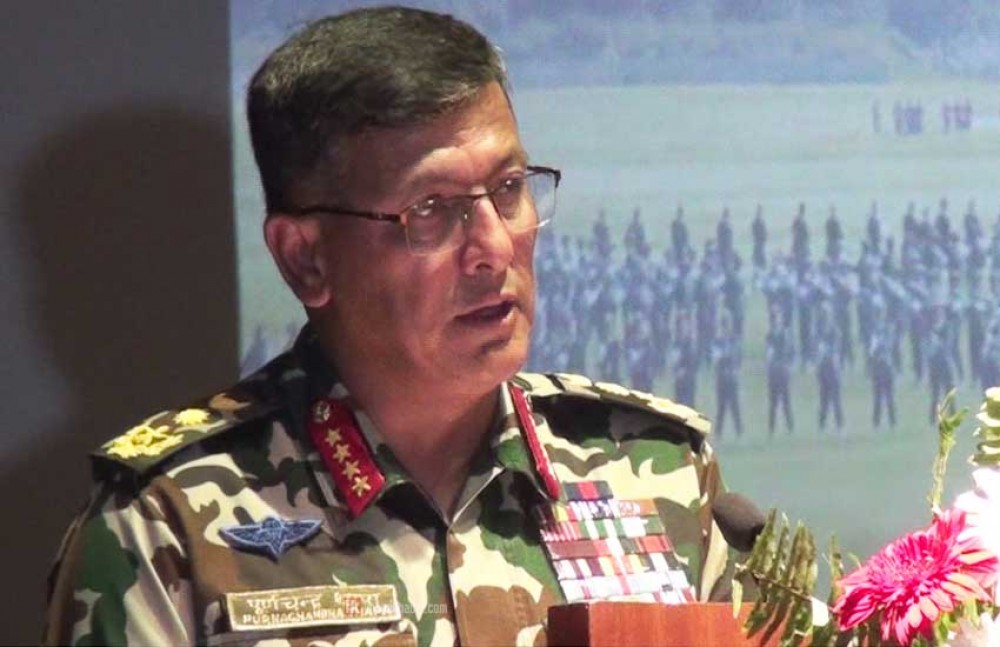 No ads found for this position
Kathmandu. On the successful completion of his two years of office, on Bhadra 24, Chief of Army Staff (COAS) General Purna Chandra Thapa, addressed generals of the Nepal Army in a special program. According to a participating general, COAS General Thapa clearly stated that an organization has to be strong and adaptive to positive change at the same time.
COAS General Thapa narrated a story of an indestructible bridge built by Japan in Honduras which withstood the category 5 hurricane Mitch but remained useless after the calamity because all roads leading to the bridge and everything else had collapsed.
To augment his view on the development of the organization, COAS General Thapa used the story. "Nepal Army is a robust organization but it cannot be an anachronism or like the 'bridge of nowhere' in the story," he opined. "We have to strike at the weaknesses and vulnerabilities in the army and turn it into an organization useful for Nepal and the Nepali people at all times."
He assured that Nepal Army was shedding its old-fashioned mentality and as inflexibility impedes organizational growth, it has chosen a new course that will enable it to function in a more accountable way.
After joining the office two years ago, COAS General Thapa has made relentless attacks upon corruption and irregularities that were rife in the organization . Making his point clear he said, "The reforms initiated under my leadership today are for the sustainability of the Nepal Army. The sturdy bridge we have built today will benefit all in the organization."
He directed all generals to be committed to their duties and responsibilities upholding the glory of the army. Though generals of the Nepal Army were the live participants of the program, the program was made visually accessible to other officers via internal communication channel.
No ads found for this position
Facebook Comment
---
No ads found for this position