Kaligandaki Corridor construction resumed
No ads found for this position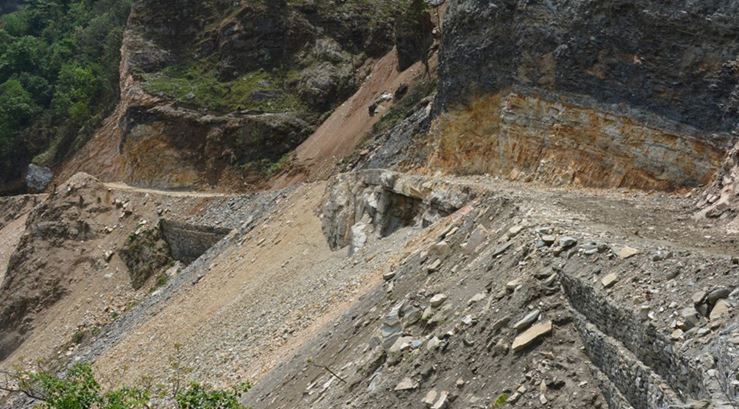 No ads found for this position
Nawalpur. The construction work on Kaligandaki Corridor, which has been considered a national pride project, was halted last April with the overarching threat of the COVID-19. It has now resumed and the responsible organization for the construction has stated that the work on the road section from Gaindakot to Palpa in Nawalparasi has been started, and that it would connect the North and South of Nepal.
The North-South Highway, commonly refereed to as the Kaligandaki Corridor covers Argali-Rampur-Gaindakot stretching 132 km, Ridi-Gulmi-Baglung 88 km, Baglung-Beni-Jomsom 87 km, and Jomsom-Korla 105 km. The construction of the 132 km road from Gaindakot of Kaligandaki Corridor to Ramdi of Palpa has been commenced, at a cost of Rs. 5.47 billion. The Indian company EKK Infrastructure Limited, that won the contract for the construction, has had a contract with Gauli Group of Nepal and Ashish Nirman Sewa for the construction of the road. The width of the 132 km road from Kaligandaki Chowk in Gaindakot of Nawalparasi, on the East-West Highway, to Ramdi in Palpa will be 11 meters. According to Kapil Gauli, the site in-charge of the construction, the road will be seven meters wide with one meter of pavement and one meter of drainage gutter on each side.
The work of tarring the road was planned to start from last April, but it was postponed for almost a year because of the coronavirus terror. The contract agreement was signed so that the construction work of Gaindakot-Palpa section that started on December 3, 2018, should have been completed by December 2, 2021. However, after the long gap, it has been stated that the work will be postponed for another year and a half since.
As per Padam Adhikari, the sub-engineer of the project, even after two years of the work actually starting, the road has seen only 30 percent progress. He commented that the construction team has been continuously alerted for timely construction of the road.
No ads found for this position
Facebook Comment
---
No ads found for this position