The final 2020 US Presidential debate: Moments from the Trump-Biden clash
No ads found for this position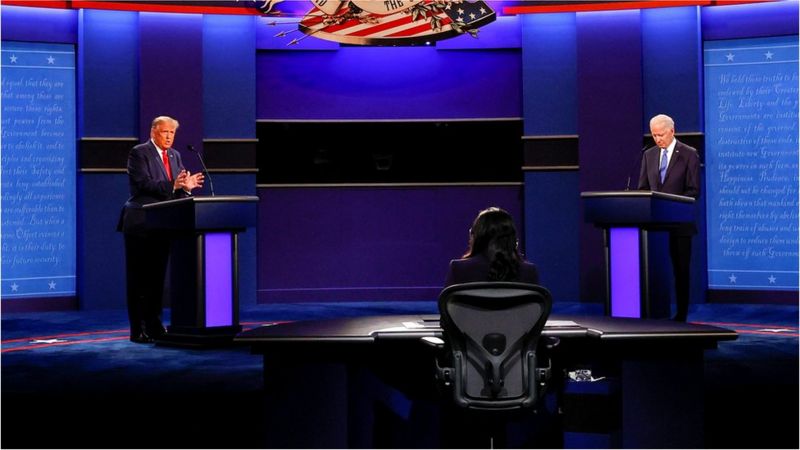 No ads found for this position
Kathmandu. Many waited with bated breaths as Donald Trump and Joe Biden faced-off for the final time since the chaotic September debate. It was announced that the candidates would have their microphones muted for portions of the event, but unlike the first debate where both Trump and Biden were criticized for their conduct, the final Presidential debate went relatively well, without many hitches.
The COVID-19 crisis and the current administration's efforts, or lack thereof, occupied center stage during the debate. The Republican nominee unsurprisingly also raised the topic of Hunter Biden's links in Ukraine and China, and Biden went off on the stringent immigration policies adopted by the President. Beyond these topics were discussions on North Korea, foreign interventions in the US elections, and the US economy.
The debates were broken into six segments with 15 minutes denoted to each topic that NBC's Karen Welker moderated. The topics were divided into: "Fighting Covid-19," "American Families," "Race in America," "Climate Change," "National Security," and "Leadership."
On the issue of managing the pandemic, the candidates differed on various accounts. While Biden stressed on the upcoming hardships due to the effects of coronavirus, Trump maintained that "It will go away," and that, "We're rounding the turn. We're rounding the corner. It's going away." Biden sharply replied that while the President claimed " we're learning to live with it. People are learning to die with it." He pressed on the subject of affordable health care and its significance within the current situation.
When the conversation shifted to Hunter Biden, a topic that the President had claimed he would raise before the debate commenced, Trump went on the offense. Reminiscent of his verbal attack on Hilary Clinton during the 2016 presidential race, he repeatedly cited the recent controversy Joe Biden's son found himself involved in. When Biden attempted to reiterate that this was not about either of their families, but rather about the American families, Trump shot down his response by stating that, "That's a typical politician line," taunting Biden by adding "Come on, Joe. You can do better than that." Biden instead raised questions on Trump's recent financial disclosures.
When inquired about foreign interferences in the US elections and their stance, Trump noted that he knew all about Russia and Iran's attempt to intervene during the elections. He was referring to the  press conference organized by the Director of National Intelligence (DNI) on Wednesday, which had relayed the news that these interferences were designed to harm Trump's image. Biden assured the public that his administration would effectively deal with these threats and that the parties who were involved in the interference would "pay a price," if he is elected.
Biden then went on to target Trump administration's immigration policies and the less than favorable treatment that children received near US borders. Trump defended his policies and claimed that he was in support of legal immigration and mentioned the "cages" – pointing towards the detention facilities – that the Obama administration had instituted to hold unaccompanied minor immigrants. Biden, visibly affronted, responded by saying, "Five hundred plus kids came with parents. They separated them at the border to make it a disincentive to come to begin with. We're tough. We're really strong. And guess what. They cannot — it's not coyotes didn't bring them over. Their parents were with them. They got separated from their parents. And it makes us a laughing stock and violates every notion of who we are as a nation." Trump brushed off the comments and told the moderator to "go ahead", as she moved on to another topic.
Climate change, then became a subject for both candidates to comprehensively posit their views on a topic rarely raised in presidential debates for the past 20 years. Trump hinted that backing out of the 2015 Paris agreement was the right thing to do as the deal would have cost the nation trillions of dollars, while Biden claimed that the world needed to address climate change as a serious issue. When asked whether he would close the oil industry, Biden noted that he "would transition from the oil industry," because "the oil industry pollutes significantly." Trump took this moment to say, "Will you remember that, Texas? Will you remember that Pennsylvania, Oklahoma, Ohio?," maintaining that Biden wished to "destroy the oil industry."
When race was brought up Trump claimed that he was "the least racist person in this room," and Biden immediately scoffed on his statement saying that "This guy is a [racial] dog whistle about as big as a fog horn." Trump in turn highlighted the controversial 1994 crime bill, that Biden helped to draft, and which the Black Lives Matter movement found to be the basis for massive detention of many African Americans.
Biden had several moments during the debates when he found chinks in Trump's arguments. One of the moments was when he said that Trump was dealing with a "thug," speaking about the North Korean leader Kim Jong Un. Trump simply said, "I have a very good relationship with him. Different kind of a guy, but he probably thinks the same thing about me. We have a different kind of a relationship. We have a very good relationship. And there's no war." The Democratic nominee blasted Trump for his friendship with the dictator and stated that he would take a tougher stance. "He's talked about his good buddy who's a thug, a thug, and he talks about how we're better off. And they have much more capable missiles, able to reach US territory much more easily than they ever did before," added Biden.
Millions of votes have already been cast, and the debate may not have any great impact on the voters' final decisions. The elections will conclude on November 3, with either Biden ushering in a new administration, or Trump leading the United States for the second term.
No ads found for this position
Facebook Comment
---
No ads found for this position