Police files cases against protesting farmers in Delhi
No ads found for this position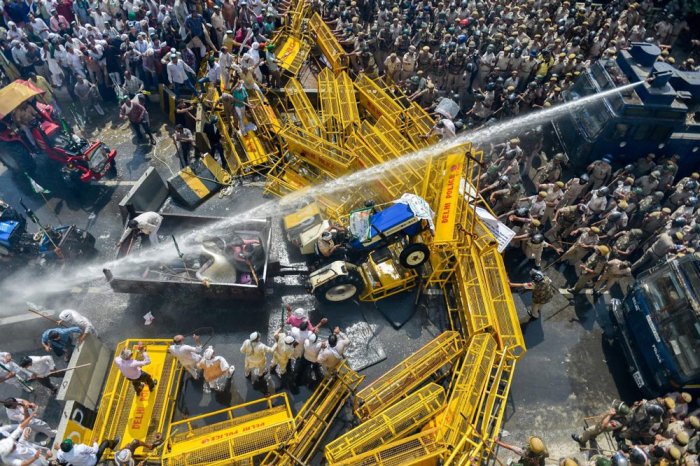 PTI Photo
---
No ads found for this position
Kathmandu. January 27. Delhi Police have filed 15 cases to the violent mass of farmers who vandalized 25 vehicles and injured 86 policemen during yesterday's "Kisaan Parade". 
On Tuesday morning, an estimated mass of more than 6,000 farmers with their horses and tractors entered Delhi forcefully, equipped with deadly weapons like swords, they knocked down police barricades and demonstrated against the new farming laws. In response to which, the police invaded with batons and tear gases. 
The violent clash was a result of farmers who disobeyed their agreement and began marching before the allowed time of 12 pm and deviated from the permitted route of the pre-planned "Kisaan Parade". 
Farmers believe that the controversial law adopted by the government would lead to the scrapping of the minimum support price (MSP) – the price at which the government buys farm produce –and the farmers would be left at the mercy of corporate dealers. The farmers and their produce account for 15% of the country's economy.
Agitated by the new laws passed, more than half a million farmers have already participated in the mass protests since November. Two of the farmers have committed suicide hoping that their death would bring success to the farmer's movement. More than 60 farmers have already died due to hypothermia during the street protest.
Modi and his allies have defended the controversial laws and accused opposition parties of misleading the farmers. His government says the new laws will bring much-needed private investment to the crisis-hit agricultural sector.
No ads found for this position
Facebook Comment
---
No ads found for this position