Prime Minister Oli skips responsibility; puts Nepali Army into COVID-19 management
It is said that the Nepali Army has no plans to build a 1000-bed hospital, PM Oli has mistaken their initiation to build holding centres for hospitals
No ads found for this position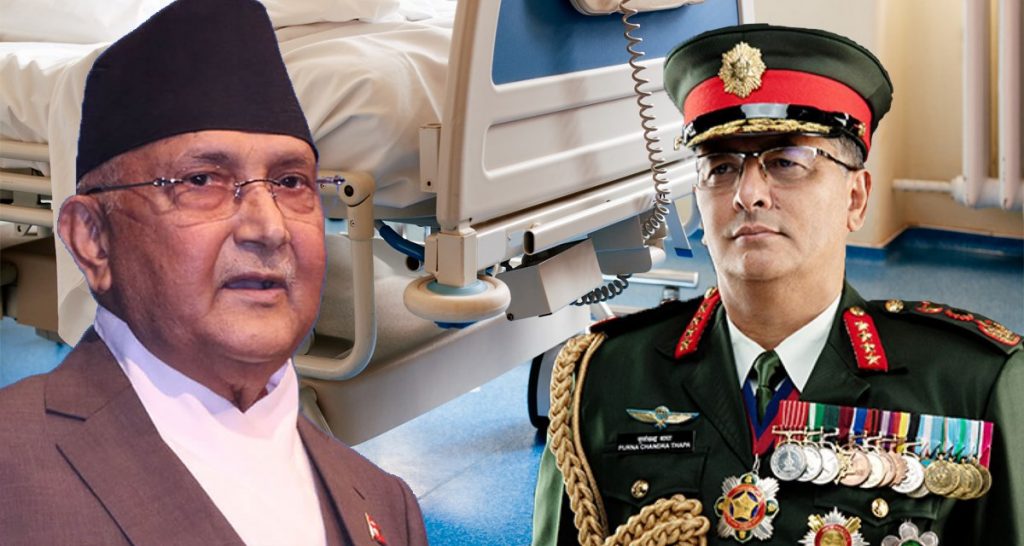 No ads found for this position
Kathmandu, May 5. The government of Nepal is facing severe criticisms for not being able to provide medical oxygen and hospital beds to the patients. At this phase of the crisis, instead of taking responsibility, Prime Minister KP Sharma Oli tries to save himself from the blame, while pointing towards the Nepali Army. 
But, why did he do so? Is the army building a 1000-bedded temporary hospital?
First Wave Controversy
During the first wave of COVID-19 last year, the government's civil system failed to provide medicine and health supplies. In response to this, PM Oli seated a meeting with the cabinet and handed over the responsibilities to the Nepali Army. Although the army imported the medical supplies, it did not fulfill the business interest of the Deputy Prime Minister and then-Defense Minister Ishwar Pokharel.
It has been alleged that Pokharel and his allies tried to drag the Nepali army into the conflict. In the process, Pokharel lost his chair in the Ministry of Defense and was forced to become a non-departmental minister.
The Second wave – pandemic and the controversy repeats
Shortly after the second wave of COVID-19 badly hit neighboring India, experts had warned the government to get prepared for a possible outbreak in Nepal. But, the Oli-led government overlooked experts' advice and failed to make any preparation. As people began accusing the government for its ignorance, PM Oli again tried to shift hopes towards Nepali Army. Oli hinted that the army is building a 1000-bedded temporary hospital in the capital. 
According to high-ranking military sources, neither the army has plans to build a hospital nor the government has allocated resources for the facility. Instead, the Chief of Army Staff General Purnachandra Thapa has proposed that if the Ministry of Health and agencies fail to handle the situation, then the army could set up a holding centre in the valley that could house a few hundred COVID patients in isolation.
A senior military source told DCNepal, "The army has talked about a holding centre and not a hospital. The Prime Minister might have mistakenly called it a hospital." Nepali Army in coordination with the prime minister, is building several holding centres in all seven provinces. The Army has already started working on the project. 
Moreover, the army has already informed the prime minister that it is not possible to immediately build a 1000-bedded hospital with the available resources. However, the army could designate one of its hospitals as a "Corona Hospital" to prevent Prime minister Oli from being insulted.
Click here to read the Nepali version of this article
No ads found for this position
Facebook Comment
---
No ads found for this position