I have made Bahrainis extremely proud by reaching the top of the world: Bahrain Prince
No ads found for this position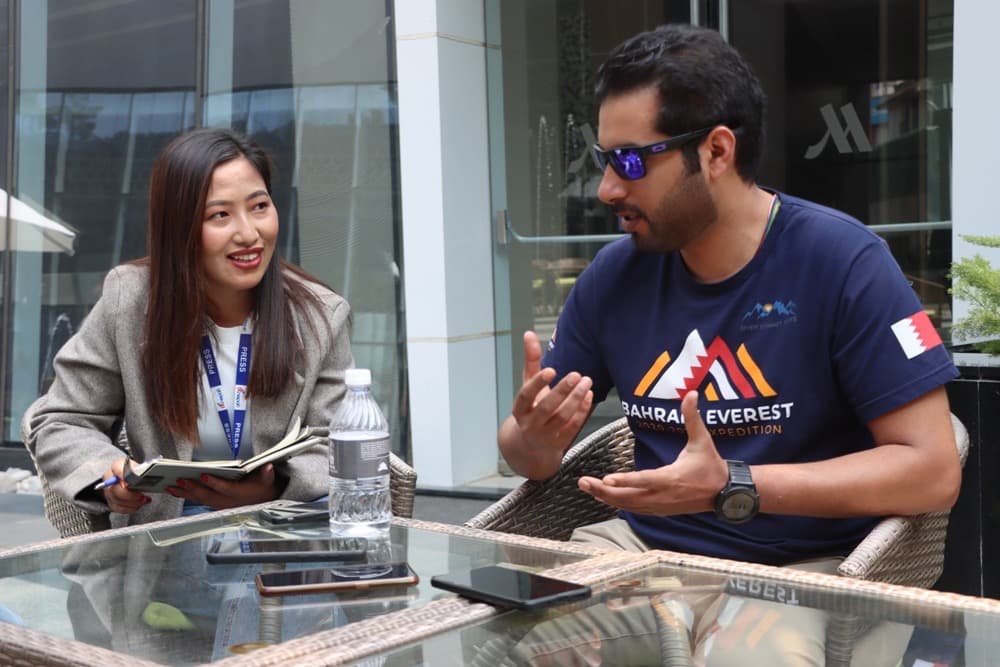 No ads found for this position
Kathmandu, May 17. Bahrain Prince Sheikh Mohammed Hamad Mohammed Al-Khalifa including Bahrain Royal Guard have successfully scaled Sagarmatha (Mt. Everest) on May 11 at 6:45 am (NST). His team became the first International team to climb the new altitude (8848.86m) Everest. 
Click here to read the original Nepali version of this article.
Mingma Sherpa, chairman of Seven Summit Treks, informed DCnepal that Prince Mohammed with a Bahrain Royal Guard team climbed on Everest at 6:45 am on May 11.
Bahrain Prince Sheikh Mohammed Hamad Mohammed Al-Khalifa arrived in Kathmandu leading a 16-member climbing team from his country to scale Mt. Everest on March 15, 2021.
The Bahraini Royal Guard team was formed three years ago, with a mission to reach the world's highest peak, Sagarmatha. The team including Bahrain Prince has arrived here in September 2020 last year. In the following month, they had successfully scaled Lobuche peak (6,619m) and Mt. Manaslu (8,156m) the world's eighth highest in preparation to summit Mt. Everest in spring 2021.
'I received a call from King Hamad Bin Isa Al Khalifa the king of Bahrain. His Majesty congratulated sending greeting and his best wishes on our achievement,' The prince said,' The king has also expressed his eagerness looking forward to seeing us in Bahrain soon.'
Speaking to DCnepal in the cheerful mood he says, 'I have made Bahraini people extremely proud by reaching the top of the world, Mt. Everest summit.'
After making a successful ascent of Mt. Everest a few days back, Phurpa Sherpa of DCNepal had a short conversation with Prince Sheikh Mohammed Hamad Mohammed Al-Khalifa is as follows:

When you reached the highest peaks of the world, what was your first feeling and reaction at that moment?
It was one of the hardest thing done ever in my life and getting to the world's highest Mount Everest is honoured. To reach Mt.Everest with the Bahrain team and looking around it just the most inspiring things. Before summiting Everest, I have only seen it in photos, videos and film. Now seeing through my own eyes being there at the top is absolutely amazing, looking down to the clouds with blue sky is indescribable.
Can you please describe the views you have seen from the top?
From summit trip mountains poking through the clouds and the colour of the sky is just over exploring amazing to see.
After vigorous training and the long wait for summiting Everest, you have reached your dream, with whom you want to share your expedition experiences?
After training for long and successfully scaled Lobuche peak (6,619m) and Mt. Manaslu (8,156m) before summiting Everest, from expedition experiences to Everest base camp trekking, I want to share those experiences with everyone in Bahrain. I am sure every team members had an incredible experience too. I will share every moment of my journey about Nepal with the people back in my home country  Bahrain. What an amazing country is Nepal and every place one can do is an adventure in this country. I will definitely go to share about the adventure expedition the whole journey of scaling Everest and the moment I stood on the top of the world.
Who do you remember and missed most on reaching scaling  Everest?
I missed my country Bahrain, of course, my beloved wife, family and friends.
How do you feel when you become the first-ever Bahraini national to unfurl its national flag on the top? Can you please share your experiences?
I became the first Bahraini national ever to be on the top of the world's highest peak Everest and lucky to hoist Bahrain's flags on the top of the Everest.
 It is just so humbling to be the first International team to the summit at a new altitude (8848.86m) of Everest which is another bonus for us too. To raise Bahraini flags on the top of the world gives me a sense of joy, pride.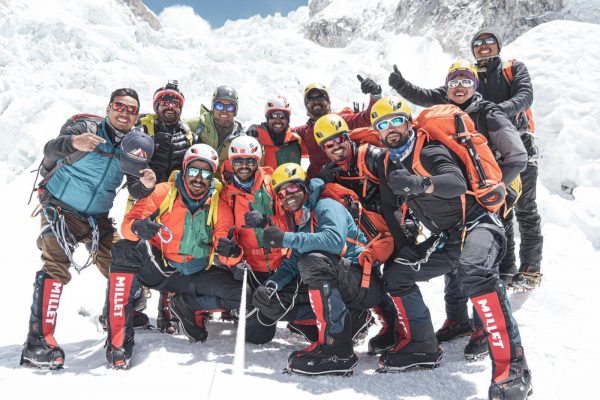 What is the message you want to convey to others mountaineers? What do you want to say to them?
Thank you for allowing the Bahrain team to be part of your community, in a short period of time in the most valuable journey from Lobuche peak (6,619m) and Mt. Manaslu (8,156m) and finally to Everest. It has been absolutely amazing meeting wonderful people with the world's best climbers who has super experience of climbing of over 30 years history. While speaking with them they were so humble, they don't say to check their social media profile, and never show themselves as one of the best climbers in the world.
It has been absolutely amazing meeting those climbers, being so friendly and sharing experiences with us. It is all because of these wonderful climbing guides we achieved our dreams. And now everyone in Bahrain knows about our success in scaling the world's highest Mt.Everest.
How long did you stay at the top?
We stayed around 30-minutes at the top. It is very hard to stay long at the top. We spend this precious time capturing images, watching 360-degree Himalayan views. It was just a spellbound moment, and I will never forget this enthralling moment throughout my entire life.
No ads found for this position
Facebook Comment
---
No ads found for this position