Effects of COVID-19 on Nepali and global economy
No ads found for this position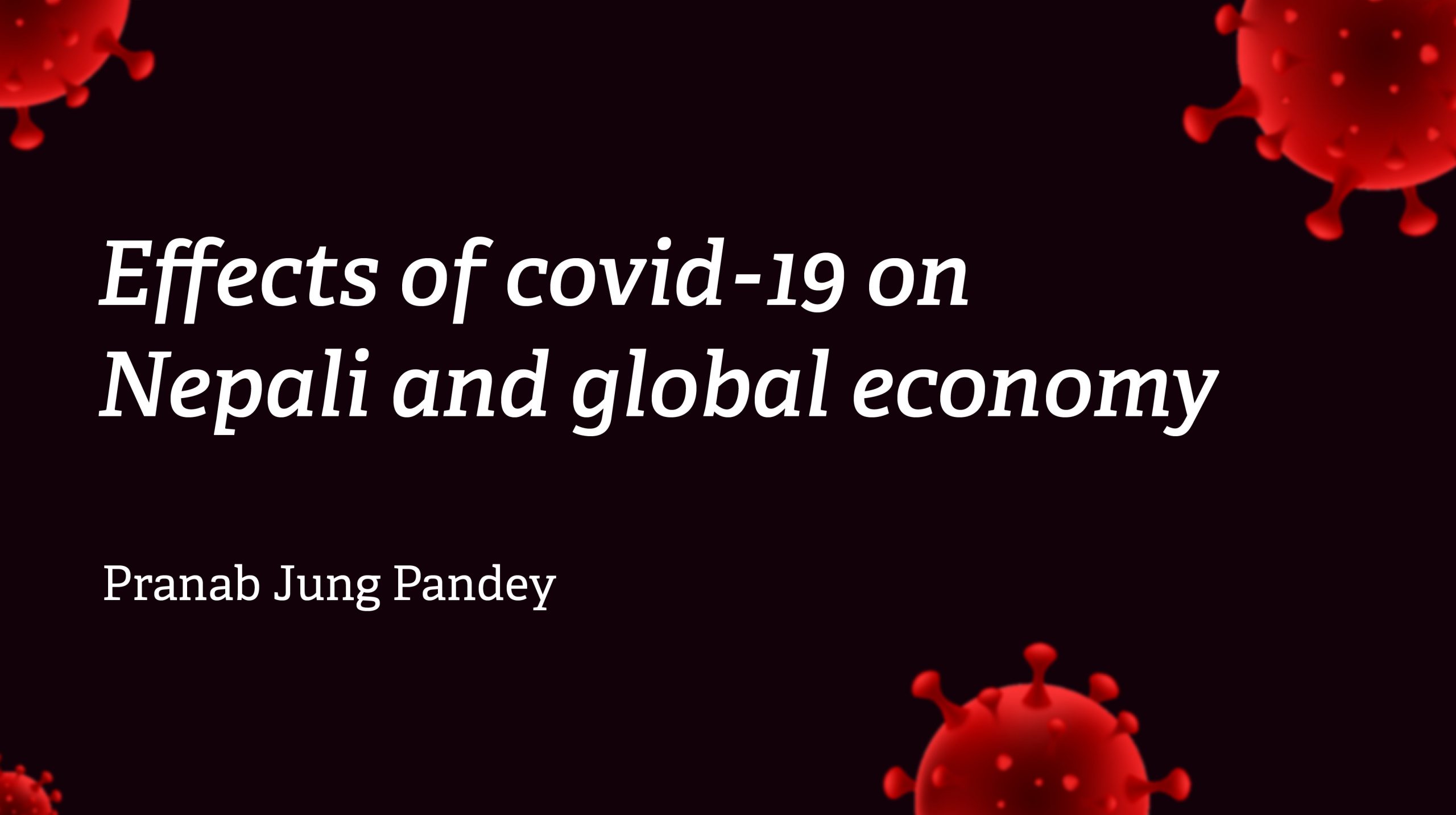 No ads found for this position
Due to the COVID-19 pandemic, a country-wide lockdown came into effect on 24 March 2020. After lockdown was imposed, all retail stores expect for the basic goods were closed. Retail stores are one of the most important mediums in an economy as it creates bridge between producers and consumers. So, simultaneously industries' turnover got decreased, when retail stores were closed. Supply chain of almost every sector were disturbed.
Tourism industry, which was one of the most important sector of Nepali economy, that stood 7.9 percent of the country's GDP and supported 1.05 million jobs, had completely stopped its operation during first lockdown. Due to this reason many of them were unable to afford employees' expenses, which made some old and renowned hotels and travel agencies like hotel Annapurna to be closed down.
Without a question, the epidemic has had a significant impact on all types of enterprises. Due to the impact on worldwide supply and demand of both goods and services, many entrepreneurs and start-ups saw a significant drop in revenue. These changes may have a negative impact on new entrepreneurs in the future, or they may have a good influence and serve as a learning opportunity, according to some. Borders were locked in nations with a higher number of cases to prevent the virus from spreading, and large lockdowns were implemented in Italy, California, New York, and the United Kingdom. As further efforts were made to implement social distancing, numerous businesses around the world were forced to close or limit their interactions, resulting in considerable economic losses.
Since the commerce community is frequently connected globally, being unable to speak with vendors was a severe problem for a company with a supply chain in China. Because China has the largest market for industrial goods due to its cost-effectiveness, not only small business owners encountered issues, but large-scale industries also encountered regulatory and legal issues.
We've seen incredible ways taken by firms to adapt their operations to suit with our new way of life, and we've seen amazing ways adopted by firms to convert their operations to suit with our new way of life so far. Therefore, now that we are all aware that things will be different in the post-covid world, we must recognize the community's new demands and provide services and items that complement the new normal.
Pranab Jung Pandey is a BBA 1st semester student at Kathmandu University School of Management
No ads found for this position
Facebook Comment
---
No ads found for this position