Helping Covid patients breathe in Nepal
Despite border delays and landslides, an epic journey was made to deliver 450 oxygen cylinders to Nepal.
No ads found for this position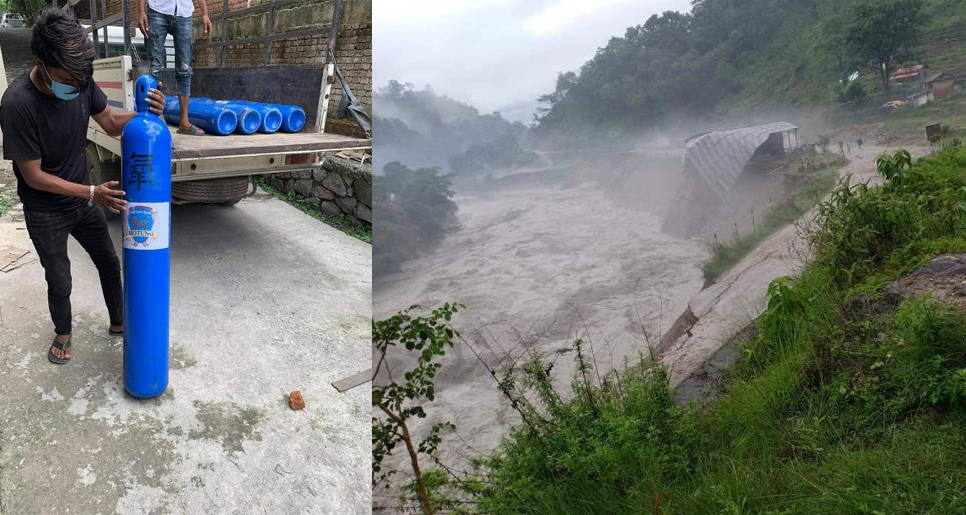 No ads found for this position
Kathmandu, July 15. When Sean and Mary Hotung began their campaign last month to fundraise and collect medical supplies in Hong Kong to send to Covid-hit Nepal, they asked the country's health minister to tell them what was at the top of the "urgent" list and he told them oxygen cylinders. And so, they jumped into action partnering up with Nepalese businessman Yem Gurung to finance and transport 450 large oxygen cylinders to Nepal.
To get the cylinders to Nepal was a journey of more than 3000km from the cylinder factory they sourced in Shandong province in northwest China to the border between Tibet and Nepal and then on to Kathmandu. And there were plenty of challenges along the way.
But thanks to this initiative, those cylinders are now being used in rural hospitals around Nepal to help Covid patients breathe.
"Even if I live away from Nepal, I'm an ex-Gurkha, whenever there is a natural disaster or whenever the country is in trouble, we've always been supporting and doing our level best," says Yem, who is the Patron of the Hong Kong chapter of the Non-Resident Nepali Association and a longtime resident of Hong Kong.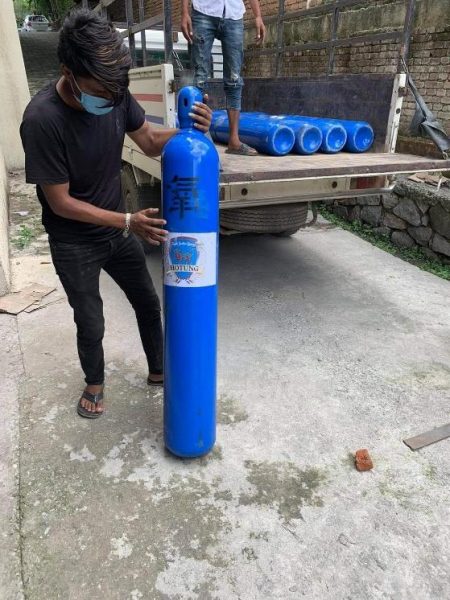 Hong Kong has an historic link to Nepal, with many Gurkhas serving with the British military here over the decades since the 60s. Many remain in Hong Kong as have their children and grandchildren making up a 20,000 strong community here.
Yem previously helped construct a village in Nepal after a devastating earthquake in 2015 so he is accustomed to helping his fellow Nepalese and also getting supplies into geographically challenging areas having grown up in a mountain village himself.
"We purchased these oxygen cylinders from Shandong in northern China and after purchasing them we contacted a logistics company and started our journey from there."
Albert Lam, the chairman of the Hong Kong Ex-Servicemen's Association picks up the story.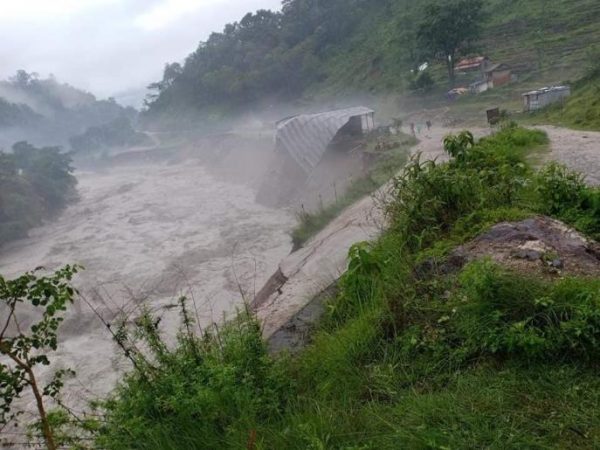 "It is a long way from Shandong to Nepal. But it was easier to go via China than India," he says. Also, the supply of cylinders was ready to go, so there was no waiting time. "So, there are very good roads all the way up to Sichuan. Then from there, from Sichuan through Tibet to Nepal" the road quality deteriorated and could be heavily affected by the weather conditions.
The blue cylinders were manufactured in the city of Linyi in Shandong province and then loaded on to the back of a truck on June 6.
Sean and Yem were in daily contact with the driver to track his progress as he travelled to Yunnan, then Lhasa, on to Shigatse and then Zhangmu, the last city ahead of the China- Nepal border. The driver would provide them with daily short videos as he made his way across thousands of kilometers. At Zhangmu the cylinders were transferred on to two smaller trucks to better navigate the smaller roads ahead.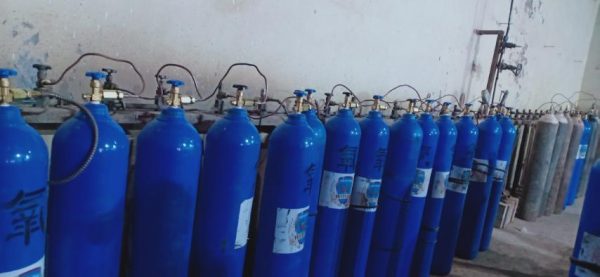 "We then had to go through so many challenges," says Yem. "First thing was that our truck was stopped at the China border for three days." There was a new protocol that had just come in the day before, which meant the driver needed to take a Covid test before he could travel on. Day two – the weather was so bad, the border customs on the China side didn't open. Day three – the heavy rain continued and then things very slowly got going again. Due to the holdups the oxygen truck was now behind a whole series of apple trucks.
Life-saving oxygen cylinders trapped behind trucks with apples. So, this was a frustrating time for the team. And the challenges were only just beginning. Once the trucks were on the other side and into Nepal, Yem was informed by his driver contact that due to the monsoon weather, there had been a landslide and the road was impassable.
"So, we had to arrange porters to carry all of these 450 oxygen cylinders from part of the road, across the damaged part and get over to the other side. And again, reload on the truck. So that was a very hard job," says Yem. Video footage sent by the truck driver shows porters individually rolling out the oxygen canisters which are then carried 800 meters down the road and then taken by two smaller trucks.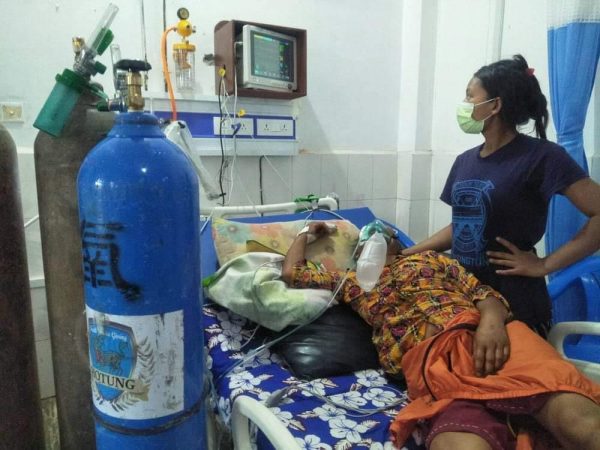 For Sean and Yem, it now meant the end of any opportunity to send more medical supplies overland. But the cylinders had made it through.
The trucks then drove towards Kathmandu, "and then again there was a landslide near to Kathmandu. We had to call this excavator to clear all the debris from the road and that also took three to four hours," says Yem. "The next morning, around five o'clock, at last we were able to get our cylinders to Kathmandu."
When Nepal was hit this year by a second wave of Covid 19, the country was unable to cope. And while it does have access to an oxygen plant, there weren't the cylinders to be distributed to the hospitals.
"Once [the cylinders] reached Kathmandu [on June 20], the very next morning we started distributing to all these very hard-hit areas and very remote areas where there is only very limited medical access there."
It was a challenging time for Yem. Daily checks to the driver, to the authorities, to customs, to keep pushing this vital shipment on. And Sean also laughs as he kept on Yem's back, too. "He said we needed to get these oxygen cylinders to Nepal as soon as possible," says Yem. "So, he was always pushing me, and I was really working hard."
Out of this vital cargo, some 125 cylinders were sent to eight hospitals (Dailekh, Dulu, Dolpa, Humla, Mugu, Jumia, Surkhet, Jajarkot) in Karnali Province, which has had the highest mortality rate during the country's second wave of Covid-19. The others have been distributed across the country to remote areas where there is very limited access to medical care. 4 hospitals ( Mahhakai, Dadeldhura, Seti Provincial, Tikapur) in Sudurpachhim Province received 110 cylinders, Gandaki Province received 125 cylinders, and Bagmati Province received 90 cylinders.
One last video sent back from the final distribution around rural districts in Nepal shows a young woman lying on a hospital bed with the oxygen cylinder next to her bed.
So how does Yem feel now, knowing that 450 oxygen cylinders from his funds and those of the Hotungs are now supplying oxygen to two patients at a time in Nepal's rural hospitals? "We've been successful in rescuing lives now and that gives us immense pleasure," he says.
No ads found for this position
Facebook Comment
---
No ads found for this position