Nepali defense experts provide training classes to foreign military generals
No ads found for this position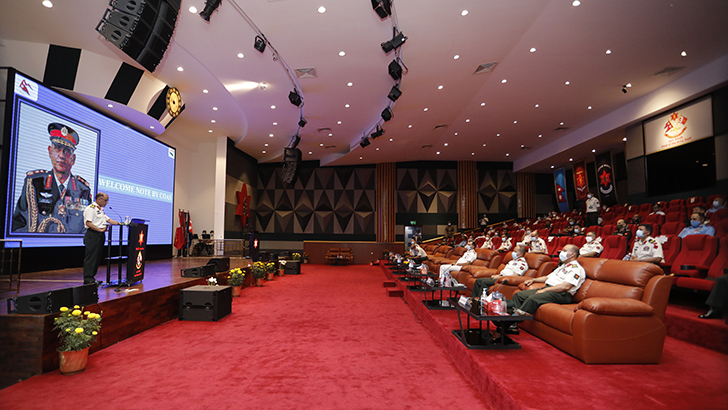 Nepali Army COAS General Prabhu Ram Sharma expresses his welcome remarks to the Indian National Defense Course during the team's visit to Nepali Army Headquarters on October 19, 2021. Photo: Nepali Army
---
No ads found for this position
Kathmandu, October 20. A team of Generals from the Indian Army National Defense Course (NDC) has received brief training classes from Nepali Army defense experts.
The 39 member team included high-ranking military officials from Bhutan, Sri Lanka, Australia, and the Maldives. The course members were led by Indian Army Rear Admiral (Three Star General) Dhiren Bhig.
The delegation team landed in Kathmandu on Sunday (October 17).
Three Nepali defense specialists, Chiranjung Thapa, retired Nepal Army Major General Vinoj Basnyat, and retired Brigadier General Dr. Umesh Bhattarai, conducted scholarly talks at the presentation hall of the Indian Embassy in Lainchaur.
Defense expert Chiranjung Thapa gave a briefing presentation on Nepal's stance on terrorism. Similarly, Retired General Vinoj Basnyat talked about the regional geopolitical scenario. Lastly, retired Brigadier General Dr. Umesh Bhattarai conducted a presentation on Nepal's Defense Priorities.
Following the session, the Indian Ambassador Vinay Mohan Kwatra hosted a special banquet in the honor of military generals at the Soaltee Hotel. Defense Minister Minendra Rijal, Chief of Army Staff General Prabhu Ram Sharma were invited as special guests. The occasion was also attended by former COAS Generals Prajwal Samsher Jabara, Pyarajang Thapa, Gaurab Samsher Rana, and Rajendra Chhetri.
The delegation team is scheduled to return to India on Saturday (October 23).
No ads found for this position
Facebook Comment
---
No ads found for this position