Why didn't the Indian Army give a ceremonial tunic to CoAS Prabhu Ram Sharma? (Lets compare with photos from past)
No ads found for this position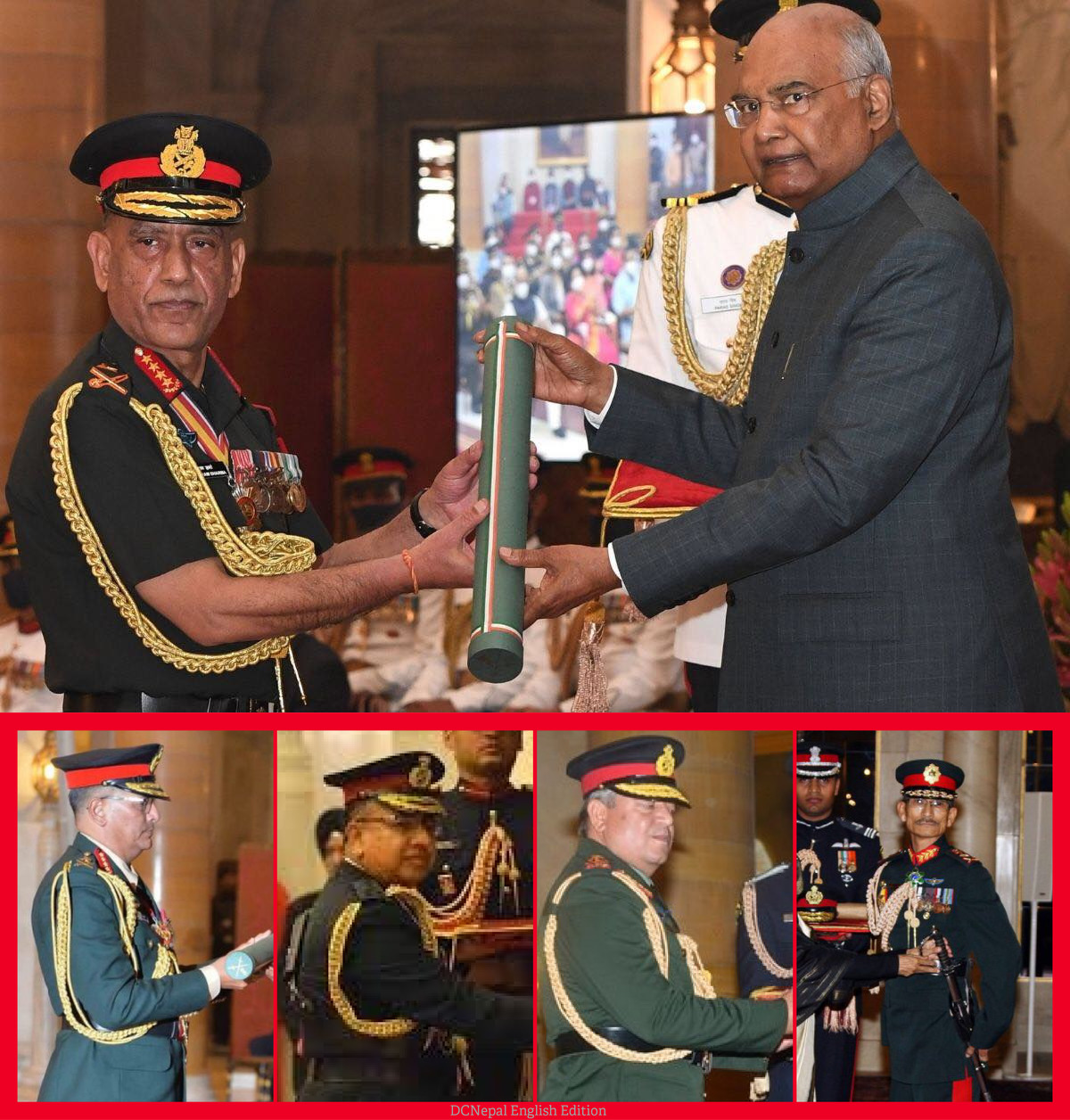 No ads found for this position
Kathmandu, November 13. The Nepali Chief of Army Staff (CoAS) General Prabhu Ram Sharma was spotted in the official uniform of the Indian Army. During special events, a ceremonial uniform is required; however, at Tuesday's event in Delhi, Sharma was dressed in a non-ceremonial uniform.
The major highlight of Sharma's visit to India was to receive the rank of "honorary General of the Indian Army" from the President of India. The Indian President Ram Nath Kovind hosted a special ceremony on Tuesday and conferred the honorary rank insignia and the Sword to Sharma. The viewers who know about the tradition were surprised to see the uniform worn by General Sharma.
Tradition between the neighboring armies
The reciprocal gesture of conferring the rank of honorary general on the chiefs of each other's militaries has been practiced by Nepal and India since 1950.
The then Indian Army Chief General KM Cariappa had received the honor first in 1950. General Surendra Bahadur Shah was the first Nepali Army Chief to be accorded the honorary rank.
COAS Prabhu Ram Sharma is the 15th Nepali Army Chief receiving the honorary rank of General of the Indian Army.
Similarly, General Manoj Mukund Naravane is the 18th Indian Army chief who received the rank of honorary General of the Nepali Army. He was conferred the honorary rank by Nepali President Bidya Devi Bhandari in 2020.
Whose uniform?
The foreign CoAS receiving the honorary title must wear the ceremonial tunic provided by the army that bestows the title. The tunic is composed of distinctive shirts, ties, coats, and pants. 
Oddly, the pattern altered for the first time this year, when CoAS Sharma was seen wearing the Indian army's standard office uniform, a green half-shirt, and green pants.
Each time, the body measurements of the Nepali CoAS are given to the Indian army. According to a high-level military source, General Sharma's body measurements were indeed given to the Indian army. Sharma's uniform, on the other hand, did not resemble a ceremonial tunic. "This came as a big surprise to the Nepali Army," the source said.
Here are photographs of former Nepali army generals having received honorary rank titles from Indian presidents.
No ads found for this position
Facebook Comment
---
No ads found for this position