China hands over 'Panda Book Corner' to five schools in Nepal
No ads found for this position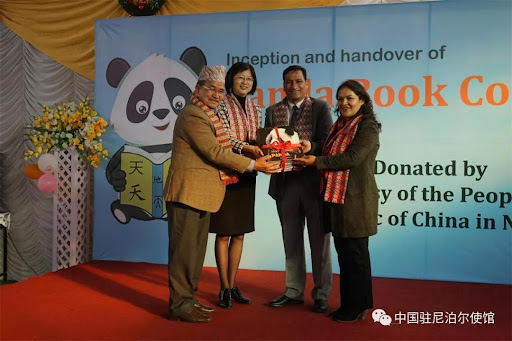 No ads found for this position
Kathmandu, November 25. The Chinese government has handed over the 'Panda Book Corner- 2021' to five schools in Nepal.
Minister for Education, Science, and Technology, Devendra Poudel, handed over the 'Panda Book Corner-2021 to the selected schools amidst a program in the federal capital on Wednesday. The books on different subjects such as education, culture, language, and literature are provided under the Panda Book Corner.
The schools selected for the award for this year include Bal Adarsha Higher Secondary School, Lamjung; Siddhiganesh Higher Secondary School, and LRI School of Kathmandu, among others. 
Minister Poudel expressed gratitude to China for its assistance scheme, which he believed would keep two-country assistance and cooperation intact and alive. "China's assistance to the education sector is expected to cope with the challenges facing the 21st century," he said, adding that cooperation with China for quality and effective education would help create employment and spur development in Nepal. 
On the occasion, the Chinese Ambassador to Nepal, Hou Yanqi, said the Chinese Embassy had given priority to China-Nepal cultural exchanges and the academic development of Nepali students. 
Similarly, Chairperson of Nepal-China Friendship Forum, Dr. Kalyanraj Sharma, said the Panda Book Corner would help expand Nepal-China cultural and educational relations to a people-to-people level.
Also speaking on the occasion was the Principal at LRI School, Dr. Devkant Joshi, and Principal at Bal Adarsha Higher Secondary School, Ram Krishna Bhandari, among others.(RSS)
No ads found for this position
Facebook Comment
---
No ads found for this position