NRNA Innovation Committee organizes "Third National Knowledge Convention" in USA
No ads found for this position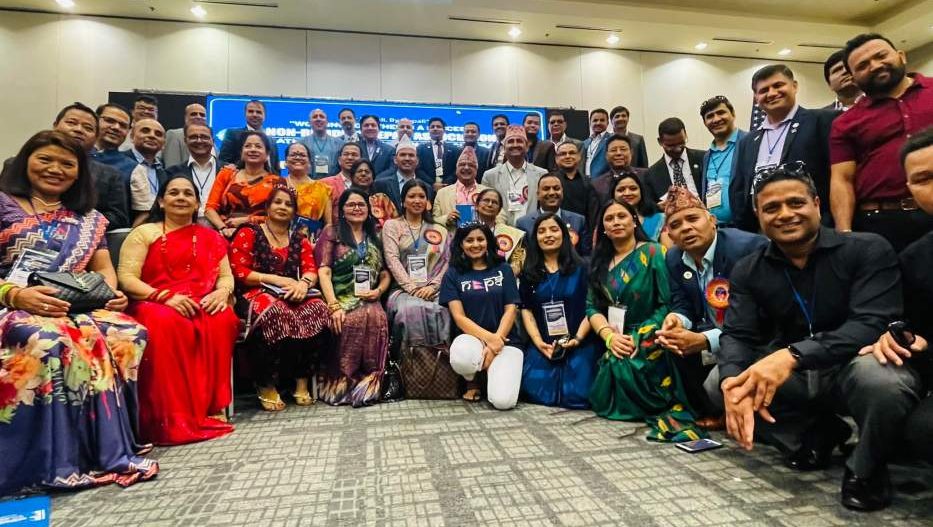 No ads found for this position
North Carolina, July 5. The third edition of the National Knowledge Convention organized at the Raleigh Marriott City Center in North Carolina in the United States concluded on Monday. 
The one-day event, organized on the sidelines of the 11th annual general meeting of the Non-Resident Nepali Association (NRNA) National Coordination Council (NCC) US Chapter, saw the presence of experts and professionals from both Nepal and the United States. 
The Science, Technology, and Innovation Committee (STIC) under the NRNA NCC of the United States organized the convention on Monday (July 4)–which is observed as Independence Day of the United States.
During the convention, experts and professionals discussed on 11 different topics, and presented ideas on skills and knowledge transfers for the benefit and development of Nepal. 
Nepal-America Relation: Reflection of 75 years of friendship
During the session entitled 'Nepal-America Relation: Reflection of 75 years of friendship', Geja Sharma Wagle, a geopolitical expert, said the diplomatic relations between Nepal and the US has been close, cordial, and intimate since Foreign policies guiding principles. "Nepal has been giving top priority to its neighbors, which is also a geopolitical and diplomatic obligation. But keeping national benefits in consideration, Nepal has been giving special importance to the power nation US after its immediate neighbors," he said.  
"Possibly the Prime Minsiter of Nepal is visiting the United Staets soon. During the visit, additional development cooperation and economic aid will be possibly announced." 
"The US has been providing moral support to Nepal's democratic movements. It also has been a great contributor in democratisation of Nepal," Wagle said. 
"The United States has been a contributor in Nepal's economic development. That's why the US is Nepal's largest donor, which is not a loan but a grant. MCC, which has entered the implementation process, is the hallmark of the Nepal-US development partnership," Wagle added.  
Dr Dinesh Bhattarai, Foreign Affairs Adviser to the Prime Ministers of Nepal in 2014-2015, said "the relationship of Nepal with the US has been an important part of the Nepal's foreign policy, in diversifying diplomatic relations, and maintaining friendly and cooperative ties with all countries of the world. It is gratifying to note that our embassies are working together to further this relation."
"South Asia is becoming a dynamic region, economically, geopolitically and diplomatically. Nepal looks to the US as a land of freedom. Nepal and US have common stakes in global peace, prosperity, and indeed the survival and freedom. Relations have grown steadily between Washington and Kathmandu over the past seven decades," he said.
Scoot H Delisi, former United States Ambassador to Nepal said, "We start from a strong base that finds us sharing so much in common like natural beauty and cultural diversity. I believe our nations share a commitment to democratic values, human rights and principles of good governance."
"We are not looking to make Nepal's position between two giant neighbors more complicated. We really want Nepal to be a successful democratic partner in a world where those of us who share fundamental values invest in each other's success. We want to be friends, and offer support to Nepal. As Nepal seeks to create a nation stronger, safer, more democratic, and more prosperous for all, we stand ready to assist."
No ads found for this position
Facebook Comment
---
No ads found for this position