Gai Jatra festival being celebrated today
No ads found for this position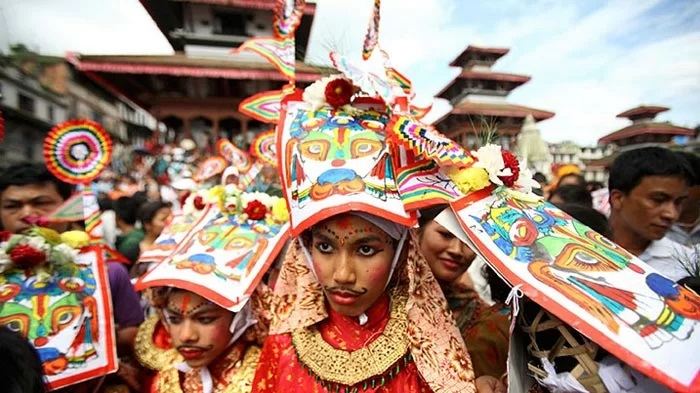 No ads found for this position
Kathmandu, August 12.  The traditional festival of Gaijatra or the 'cow festival' is being observed in three cities of the Kathmandu Valley and some other places in the country amid various entertainment programmes, fun, humor, and satire.
The eight-day festival generally falls on the first day of the waning moon in the month of Bhadra (Bhadra Krishna Pratiprada) ending Astami as per the lunar calendar. 
During this time-honored tradition, people of all ages in the guise of cows and lunatics go around the city, wearing odd costumes to commemorate those who died during the past one year. The bereaved families offer fruits, bread, beaten rice, curd, and money to those participating in the procession including the cows.
As the saying goes, the festival derives its name from the religious belief that the deceased, during their journey to heaven, crosses a legendary river by grabbing the tail of a cow.
This festival is believed to have started during the time of King Pratap Malla, who, in a bid to console his queen, much grieved at the death of her son in a smallpox epidemic, ordered his people to organize humour and satire programs in various comic postures.
This tradition remained continued in the form of the Gaijatra festival during which people also vent out their feelings towards social and political anomalies, human follies and other contemporary affairs through comic skits, cartoons, and the like.
Apart from the Valley, the festival is also observed in Banepa, Dhulikhel, Trishuli, Dolakha, Khotang, Bhojpur, Chainpur, Ilam, Dharan, Biratnagar, Birgunj, Bahrabise, Hetauda and Pokhara.
Except for the headline and the cover picture, this story has not been edited by DCNepal staff and is published from a feed by National News Agency(RSS).
No ads found for this position
Facebook Comment
---
No ads found for this position