Japan honors Dago despite reservations from public
Dago Chiring is accused of being an anti-human rights activist and displacing over 100,000 people in South Asia
No ads found for this position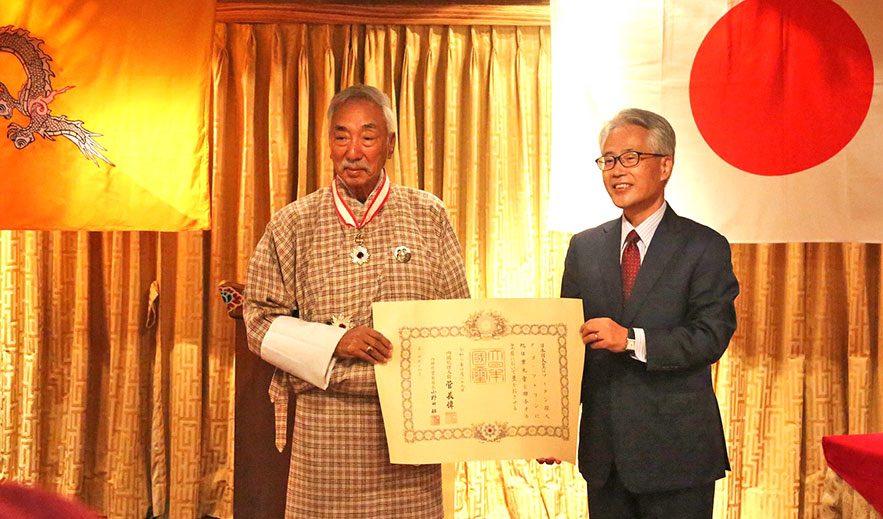 No ads found for this position
Kathmandu, September 8. The Japan government honored Dago Chiring, the former home minister of Bhutan, despite strong oppositions from around the world. Chiring is accused of being anti-human rights activist and displacing over 100,000 people in South Asia.
The "Rising Sun Gold and the Silver Star" award was handed over to Chiring by the Japanese ambassador to Bhutan, Satoshi Suzuki on September 6. An event was held for the occasion at Druk Hotel in Thimphu, Bhutan.
Further, Japan was to award Chiring last year, but could not due to extreme opposition from around the world. They awarded him this year despite him being accused of crimes against humanity.
Moreover, when Chiring was minister in Bhutan, Bhutanese people of Nepali origin was forced to leave the country. In addition, they were not allowed to celebrate their festival or to wear their traditional clothing.
After the decision of awarding Chiring was made public last year, thousands of Nepali speaking Bhutanese people started a signature campaign against honoring him. The Nepali speaking Bhutanese, who were chased from Bhutan are now residing in countries around the world including US, Canada and Europe.
Furthermore, they informed the Japan government about the campaign. Bhuvan Pyakurel, a member of the Reynoldsburg City Council, Ohio, who is also a permanent resident in the US under the resettlement program, told DC Nepal, "People living in the southern part of Bhutan were chased off. A person who has committed crimes against humanity got honored. It has given a message of insult."
Thousands of signatures were collected under the campaign, "One Nation, One People" to aware the Japan government against the honor of Chiring.
But, the Japan government ignored the request from the signature campaign and pressure from around the world. Additionally, under Dago's tenure, many people were arrested, jailed and many women were subjected to rape by Bhutanese army.
However, Japan chose to honor him for his contribution to improve relations between Japan and Bhutan. He is the first Bhutanese citizen to receive the highest Japanese honor. In addition, he was also the ambassador to Japan.
No ads found for this position
Facebook Comment
---
No ads found for this position