Nepali speaking community celebrate their biggest "Volleyball Festival" in USA
No ads found for this position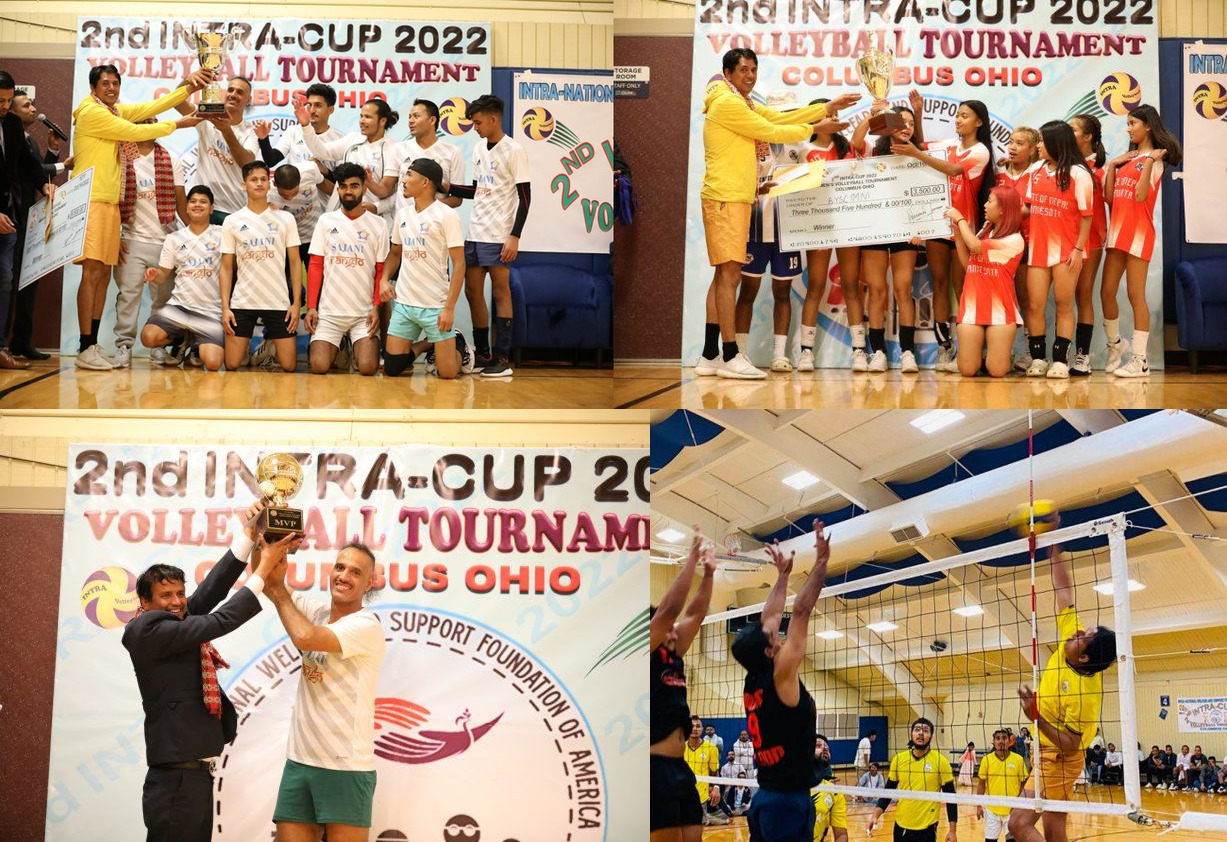 No ads found for this position
Kathmandu, October 18. The Nepali-speaking community in the United States celebrated its biggest volleyball festival on Saturday and Sunday.
29 teams from nine US states gathered at the Big Run Athletic Complex in Columbus city of Ohio to participate in the "2nd Intra-Cup 2022 Volleyball Tournament".
The two-day sports event was organized by the Intra National Welfare and Support Foundation, a non-profit organization that promotes Nepali culture across the globe.
Ohio State Representative Mark Johnson and Foundation President Dilli Adhikari jointly inaugurated the tournament. Johnson expressed his excitement at launching a major celebration for the Nepali-speaking community.
The president of the Central Ohio Nepalese Association (CONA) Dr. Damodar Paudel and Southeast Ohio District Director (for Senator Rob Portman) Kelly Johnson attended the inauguration ceremony as special guests. Dr. Poudel presented insightful knowledge on the connection between sports and health.
"We had 21 men teams and 8 women teams from the states of New York, Maryland, Minnesota, Ohio, Texas, Kentucky, North Carolina, Virginia, and Pennsylvania," the coordinator of the organizing committee, Deepesh Pradhan told DCNepal.

The Winners of the Men's Tournament
The Far Western Nepalese Society from Texas bagged the first prize worth 8,500 US dollars.
Similarly, the Young Blood team from Pennsylvania secured the second prize of 6,500 US dollars.
The Winners of the Women's Tournament
Likewise, the Bhutanese Youth Sports Club from Minnesota won the finals of the women's tournament and received 3,500 US dollars.
The Friendship Club from Ohio secured second position in the women's tournament and received a cash prize of 2,500 US dollars.
The women's team of Servaver Club received the third prize of 1,000 US dollars.

Foundation President presented awards to winners
At the closing ceremony of the grand event, the President of Intra National Welfare and Support Foundation Dilli Adhikari handed over the trophies and certificates to the winning teams.
Kailash Bhatt of Far Western Nepalese Society and Bhima Mainali of Friendship Club received the most valuable player titles.

Hari Rai, Pujan Magar, Kailash Bhatt, Dinesh Pratap Singh, Dhruv Shrestha, Roshan Malla, Jeevan Shahi Vipin, Khum, Ravin Gurung received "Man of the Match" titles in different matches that were played on Saturday and Sunday.
Similarly, Bandana Adhikari, Kopila Basnet, and Nikita Lama Sherpa were given the title of "Woman of the Match".
Winners dance on Traditional Deuda Song
The players of the Far Western Nepalese Society celebrated their victory by dancing on a Deuda song, an iconic traditional dance performed in the far western part of Nepal. The players of other winning teams joined the Deuda dance.
Before the finale match, little girls from the dance class of Intra Foundation performed a Nepali dance on the stage of the Big Run Athletic Complex.
No ads found for this position
Facebook Comment
---
No ads found for this position