Politicization of MCC compact is unfortunate, The MCC-Nepal partnership is an historic opportunity.
Fatema Z Sumar, Vice President, MCC
No ads found for this position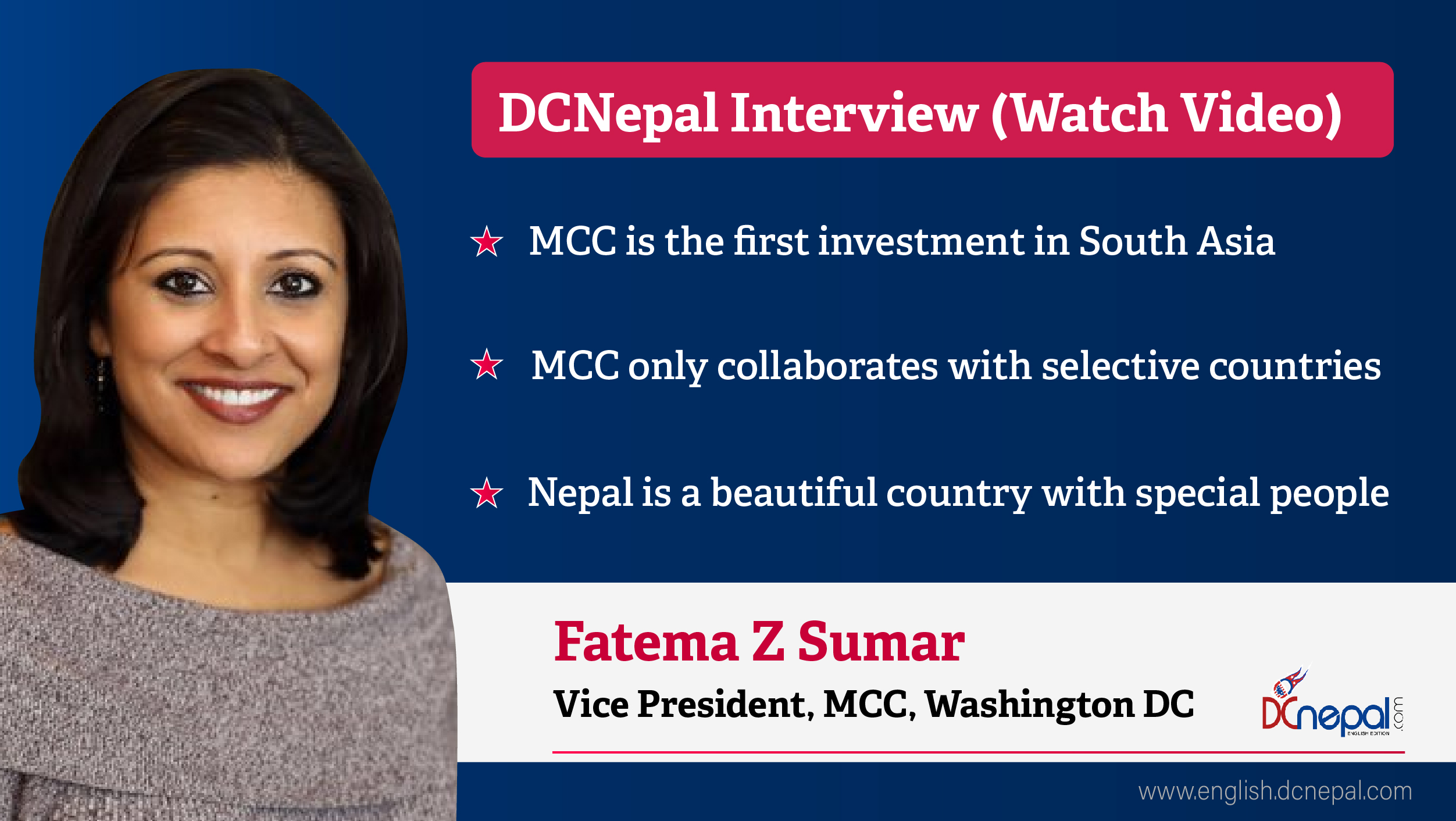 No ads found for this position
In the last several days, there have been rapid political developments in Nepal. That political flux and disarray has once again pushed the Millennium Challenge Corporation (MCC) development grant to another level of uncertainty. There are a lot of doubts and unanswered questions regarding this grant. In that regard, DCNepal's Editor-In-Chief, Choodamani Bhattarai conducted a virtual interview with Vice President of MCC – Fatema Z. Sumar at the MCC headquarters in Washington D.C.
Fatema Z. Sumar: Namaskar to all your viewers at DC Nepal, thank you so much for having me on. I am I'm delighted to spend time with all of you to talk through the Millennium Challenge Corporation's work in Nepal.
[DC Nepal] After three years with Oxfam, you are back at MCC.  What are you looking forward to in your new role?
Thank you so much and Namaskar to everyone again at DC Nepal to all your viewers and readers in Nepal, the United States, and around the world.
You know, before I begin, let me just acknowledge how deeply saddened I am by the impact of Covid-19 in Nepal. With the daily rise in Covid cases in the country, we recognize that the health care system is overburdened, and appropriate care is hard to come by.
As you know, the United States is a longtime friend for all the Nepalis that are deeply struggling with the virus not only in Nepal, but also for family members and loved ones around the world, please know that we are thinking of you and we are together with you.
To date, the United States has provided about $51 million to help Nepal combat COVID-19. This will help increase Nepal's supply of medical equipment and support other efforts to get the disease under control, such as strengthening testing contract tracing tracing cases, investigation on treatment, infection prevention, control and border control. I know the need is even greater than this, and together we are supporting frontline workers and boosting Nepal's health care system to help Nepalis overcome COVID-19. So first, I just wanted to let all your readers know that we are praying for quick recovery, and congratulations and applause to Nepal's health care and frontline workers were fighting this hard fight every single day.
So turning now to being back at MCC. I am excited to be back. Working in civil society these past three years, it gave me a more holistic view of the International Development landscape. My time at Oxfam gave me the opportunity to work in several MCC partner countries, such as Ghana, Senegal, Mozambique, El Salvador, and Indonesia. And looking at that perspective, I saw things from a new lens, something that's so important to me is that advancing development means empowering women marginalized communities, and those who struggle every single day for access to basic resources, including power and transportation.
I know firsthand that partnerships with civil society are critical for development work, and MCC knows that firsthand, as well. So, now that I'm back at MCC, I'm looking forward to applying my experience from civil society, to enhance my work and leadership with MCC and working with our partners in Nepal- the Nepali government, the Millennium Challenge account Nepal, MCC Nepal team, our US Embassy colleagues and all stakeholders to make sure that cooperation will create a positive environment that improves the lives of Nepali people by expanding opportunities for all of the people of Nepal.
What is your immediate focus, and what are your priorities related to the Nepal Compact?
Thank you so much for that question.
I've been back at MCC for a few months now and Nepal is one of my top priorities because it's such an important relationship and partnership. As a member of the MCC team, my colleagues here in Washington and in Kathmandu, we bring passion to this work every single day. Our mission at MCC is to work together to create the conditions for economic growth for people to lift themselves out of poverty.
So, my top priority is to help develop and implement partnerships and programs in the around 20 countries where we work. We call these partnerships compacts, including in Nepal. In Nepal, my focus right now is supporting our two governments make progress towards this moment where we can finally begin the actual work on the projects and programs that Nepal has identified as key barriers to its own economic growth.
This includes inadequate access to power and expensive and inadequate transportation conditions.
Together, the Nepali Government, and MCC, we conducted analysis, and worked together to determine how best to tackle these obstacles and agree on a path forward to the signing of the MCC-Nepal Compact agreement. This compact is designed to improve access to reliable electricity, and safer roads for Nepali families. To help homes, businesses, schools, and communities. We've created a plan to move forward. But there's a critical step that must happen first: the agreement of the Nepali Parliament on the issue of ratification of the Compact. So, this is one of my top priorities.
You were involved in the development of the MCC Nepal Compact.  What is your perception of the progress the Government has made since signing?
I've been very privileged to be part of this compact from day one, actually, so it holds a special place in my heart. And, I remember back when the Government of Nepal requested the opportunity to partner with MCC, to really bring new economic opportunities for its people. So, over a few years, the government of Nepal, including all the major parties and political leaderships worked in partnership to develop the MCC compact program.
During my visits to Nepal – which, I have to say, is such a beautiful country, with such special people – I had the chance to meet with government officials, private sector, and civil society leaders, and directed the development process for projects which together, became the MCC-Nepal Compact.
So, as you may recall, from 2015 to 2018, I had the privilege of meeting with every Prime Minister, including Sushil Koirala, KP Sharma Oli, Pushpa Kamal Dahal, and Sher Bahadur Deuba. In my consultations, each administration from across all political parties expressed their support for this partnership and its goals. It was encouraging to see all political parties, setting aside their differences, and working together because they realized this was an historic moment. This potential of our cooperation could make a real difference for the future prosperity of the people of Nepal.
You asked about progress. Since the compact, we signed in September 2017, it was a very proud moment for our countries and our partnership has remained strong. The Government of Nepal established the entity known as the Millennium Challenge Account Nepal (MCA-Nepal) and together, with other Government of Nepal agencies they continue to make the critical progress necessary to begin work on compact programs. This progress includes the creation of an independent Electricity Regulatory Commission, designation of the Electricity Transmission Project as a Project of National Pride, and submission of environmental permits related to constructing the transmission lines and substations.
But a critical step remains – parliamentary ratification. This means the Nepali government must formally decide to move forward on the compact agreement signed in 2017. Country ownership of economic projects are a critical part of the way MCC works with its partners. Our investments are country developed, country led, and country approved. We cannot formally begin to expand access to reliable electricity or improve road networks without leadership from the Government of Nepal on behalf of the Nepali people.
I am hopeful the Nepali parliament will take this important step soon so we can move the compact forward.
What would you like our readers to know about MCC's support for Nepal – because there are some misconceptions by the general public?
Sure. Thanks. That's such a great question. In 2017, Gyanendra Bahadur, the then minister of Finance and U.S. Government leaders signed the MCC-Nepal Compact agreement designed to increase the availability and reliability of electricity, improve sustainable road quality, and facilitate power trade in the region—the first MCC investment in South Asia.
We have only one mission at MCC. One thing that we focus on every single day: to reduce poverty through inclusive and sustainable economic growth. This compact agreement will work with, and beside the Nepali government and our civil society partners in Nepal to improve the lives of the Nepali people.
We want to help increase opportunities for them to have a brighter future for their families, and for their communities to have all of the economic opportunities available. Now, your readership may know that the Millennium Challenge Corporation is an independent US government agency. We work very closely with the US Department of State, and our American embassies around the world.
But what you may not know is that MCC actually only partners with a handful of countries. We only partner with countries that have demonstrated a good commitment to good governance, fighting corruption, respecting democratic rights and investing in their citizens. So it's such a privilege to get to work with a country like Nepal.
MCC programs are grants – not loans governments and citizens must repay. And that is an important distinction. We work with our selected partner governments to design programs they themselves determine are critical for economic expansion and the subsequent improvement of the quality of life and opportunities available to their citizens. So, our partner countries like Nepal are in the driver's seat.
That's what makes our model unique. It's truly a partnership.
Nepalis ultimately define what are their major obstacles to economic growth. Where would they like to see our investment. So, the Nepalis, the Nepal Government designed the programs in power and transport, that we would then implement together Nepalis will exercise ownership. They will direct the trajectory of our compact investments. Nepal will be in the lead on our project teams and holding accountable to domestic stakeholders in the country for making decisions and achieving results. We look forward to celebrating Nepal's leadership and success on the global stage after the compact is completed.
After the presidential election of 2020, what impact will the Biden-Harris Administration's policies have on Nepal?
MCC's mission remains consistent across presidential administrations – to reduce poverty through economic growth. The Biden-Harris Administration's priority policy areas include addressing climate change and increasing countries' climate resilience, alongside fighting COVID-19 and related public health and economic recovery. These priorities of the Biden-Harris administration are very consistent with MCC's approach towards climate-smart, sustainable and inclusive economic development programs, including our partnership with Nepal.
Ratification, or approval, of the compact by lawmakers in parliament remains challenging. In your opinion, why should parliament take up the compact as a priority action?
You may recall in July 2019, Nepal's Ministry of Finance registered the compact in Parliament with the expectation that swift approval was likely within a few months. Now, unfortunately, a series of political events delayed ratification over the last two years. Now, with the reinstatement of parliament, it is more important than ever that Nepali lawmakers move forward with ratification approval – for the benefit of nearly 23 million Nepalis.
The lack of progress on the compact agreement between MCC and Nepal sends negative signals to potential private sector investors and other donors that Nepal may not abide by its commitments and is therefore not a reliable partner for investment opportunities.
Alternatively, by advancing ratification of the compact and beginning work on the compact, Nepali lawmakers can demonstrate their ability to find consensus when it is for the benefit of their own people.
Ratifying the compact will send a very strong message about Nepal's commitment to economic growth and honoring these commitments in the broader global community.
What impact has the politicization of the compact had on U.S.- Nepal relations?
 You know, I think one thing to think about with the MCC Nepal Compact is our relationship between the United States and Nepal stays very strong. We know that the MCC Nepal compact, the fundamental design of it will bring significant benefits to the people of Nepal.
 We're talking about the increased availability and reliability of electricity and improved roads investments that will bring other economic opportunities, accelerate economic growth and reduce poverty. We know that the compact will support the Government of Nepal to better deliver critical services to its people. Ease the movement of goods around the country and open up new opportunities for all Nepalis. So, these are critical opportunities that the compact has. We are so fortunate that we enjoy such a strong bilateral relationship that has gone on for so many years, decades, between the people of Nepal and the United States, and between our governments. And we know that MCC can really help further strengthen that relationship and show the benefits of our partnership in the spirit of cooperation between the United States and Nepal.
How long will MCC stay engaged with Nepal considering ratification delays and what is the impact of delaying the work of the compact?
The United States and Nepal, first of all, have a long history of friendship, and we like to say, the United States and Nepal we have each other's backs. The MCC compact will mark a new chapter in this partnership. It will help support the Government of Nepal's ability to better deliver critical services, but the politicization of the compact, as you've put it, it's unfortunate because it involves disinformation that jeopardizes the resources that people in poverty in Nepal need for their own prosperity.
So, I know there's been a lot of debate in Nepal, about the MCC compact. A lot of that information may not be accurate in terms of really reflecting the work the good work that the MCC Compact will do to ease poverty in Nepal.
Now, since 2012. The compact has received support from each successive Nepali government led by varying political parties, including the former Nepal Communist Party, as well as the current major political parties in Parliament. In the United States, we respect Nepal's sovereignty and recognize that ultimately this is Nepal's choice to continue the partnership with MCC, as the government of Nepal has been supportive and involved with the development and signing of the Compact.
We hope it will take action soon. Partner country ownership is a core MCC principle, therefore it's critical that Nepal continue to demonstrate this ownership with tangible actions in the near term.
We are looking forward, as the situation in Nepal moves forward, to seeing how we can work together with the government to move this forward as quickly as possible.
Will the compact undermine Nepal's sovereignty or its constitution? Can Parliament make changes to part of the compact?
I'm glad you asked, given the amount of confusion surrounding this topic.
Let me say definitively, that even after parliamentary ratification, the MCC-Nepal Compact, does not and will not prevail over Nepal's constitution.
The compact in no way undermines Nepal sovereignty or its constitution.
Prior to the compact signing, and as a major component of finalizing the agreement, the Nepali government, including lawyers at the Ministry of Law and Justice, carefully reviewed the compact. They agreed that the terms of the Compact were acceptable, that they upheld Nepal's domestic laws, and did not undermine Nepal sovereignty, or conflict with its constitution.
MCC was recently working to develop a compact with the Government of Sri Lanka but those efforts were ultimately discontinued. Why did this happen?
Thank you for that question.
MCC discontinued the proposed grant to Sri Lanka due to the Sri Lankan Government's delay and lack of engagement. But the situation in Sri Lanka was very different from what we are seeing in Nepal.
For example, the compact between the United States and Sri Lanka was never signed. However, though the compact in Sri Lanka did not move forward, the United States remains a friend and partner to Sri Lanka and the Sri Lankan people.
So let me explain how we think about these factors. When MCC decides to partner with a country to grow economic opportunities, we first listen to what the country would like to do. We focus on what we are hearing from our partners in the country, their willingness to work together to develop and lead these poverty reducing projects, transparency and accountability of our partners, plays a very large role. This means that MCC needs strong leadership and engagement from our partner governments if the programs are going to be executed successfully and generate the greatest economic benefits for their people.
In Nepal, ratification of the compact was originally expected in 2019, so it is long overdue. The government needs to demonstrate strong support for the compact and their partnership with MCC.
Without that strong support, MCC may direct funding to countries who have demonstrated a firmer commitment to partnering with MCC to achieve poverty reduction and economic expansion.
Therefore, I must continue to emphasize – the urgency for the Government of Nepal to move the MCC-Nepal Compact forward.
How does the MCC Compact compare to China's Belt and Road Initiative?
Thank you for this question.
I think it's a mistake to link the MCC Compact and China's Belt and Road Initiative. The MCC Compact and China's Belt and Road Initiative have very different goals and are separate from one another.
It is important to note that in MCC's case, we have been working in partnership with the Government of Nepal since 2012 to develop a plan and create a compact designed to benefit nearly 23 million Nepalis. Nepal did not sign its memorandum of understanding with China's Belt and Road Initiative until several years later.
In working with MCC and signing the MCC-Nepal compact in 2017, the Government of Nepal identified the country's need for more widely available and reliable electricity, and safer roads. Those needs will continue to exist with or without MCC. But working together with a combined impact of $650 million to meet these needs, Nepali people can be on a pathway towards success in meeting these needs, with the MCC compact.
So, let me also share with your audience that to date, MCC has signed 37 compacts with 29 countries worth more than $13 billion. Our partner countries have a sense of pride in working with us because we only partner with countries, like Nepal, who meet benchmarks of good governance and have demonstrated a commitment to democratic principles, the public health and education of its people, and upholding the values of economic freedom.
It's worth repeating again that these MCC compacts are funded 100% by grants from the American people. These are grants that Nepali citizens will not have to repay. The China's Belt and Road initiatives, however, are debt based loans with a complicated repayment structure for the countries in which they operate. So, it's a mistake to link the two with key fundamental differences
Is MCC part of the Indo-Pacific Strategy?
Thank you for asking that question. No. The relationship between MCC and Nepal began in 2012, which predates the Indo-Pacific Strategy of 2019.
The MCC Nepal Compact is an agreement between MCC on behalf of the United States Government and the Government of Nepal. The compact is not, and never has been, a deliverable of the Indo-Pacific Strategy.
Finally, why is MCC in the best interest of Nepal and how will it impact the future of Nepal?
Thanks. That is such a great question and I think your question is really striking at the heart of the debate in Nepal. So let me say, very proudly, what I think is some of the things that excite me the most about the MCC-Nepal Compact.
The MCC-Nepal Compact will increase availability and reliability of electricity and make travel and transportation in Nepal cheaper, safer, and more sustainable.
Reliable access to electricity, when you think about it, helps drive progress in communities and growth in economies. It's such a crucial part of modern life and think about all the opportunities it will create for the people of Nepal—whether that is the opportunity for students to study after dark, or think about patients able receive care in a hospitals, or business owners being able to expand and grow a business.
Nepal's partnership with MCC will construct approximately 300 km of high-voltage powerlines – that equals one-third of the length of the entire country! It will expand access to Nepal's clean hydropower electricity to homes and businesses all the way to the Indian border to facilitate expanded energy trade.
Nepal's work with MCC will also make travel costs more affordable and help improve the quality and safety of Nepal's road networks – allowing drivers to swiftly deliver critical services to communities, move goods around the country, faster, cheaper, easier and create a safer experience for all travelers, including women.
Finally, the MCC-Nepal Compact it demonstrates to the world Nepal's commitment to improving the lives of its citizens and creating a business environment which allows foreign investment to thrive. Our partnership will help Nepal's economy grow, advance stability, it will create jobs, it will support regional security, and it will reduce poverty for nearly 23 million Nepalis.
So, I'm so excited about the opportunities that this compact has to really change the trajectory of life for those struggling with poverty in Nepal. It's their chance. It's the chance for people in Nepal, those who struggle every single day with basic necessities that you and I take for granted. It's their chance to have a better life.
This is a historic investment on behalf of the American people to help the people of Nepal.
I'm excited to work with all of you to get the job done, and not pass up this historic opportunity. Thank you so much for having me on, for having this important dialogue and conversation.
And thank you for the support to champion the needs of those who are the most vulnerable and poor in the pub. I really appreciate being with DC Nepal.
Thank you, Ms. Fatema on behalf of the audience and DC Nepal team. I would like to extend our sincere gratitude to you for availing yourself and providing further insight into MCC. Thank you so much again and Namaskar.
No ads found for this position
Facebook Comment
---
No ads found for this position