Nepal's Deadliest Air Crash in Three Decades: 71 bodies recovered, 22 handed over to victim families
No ads found for this position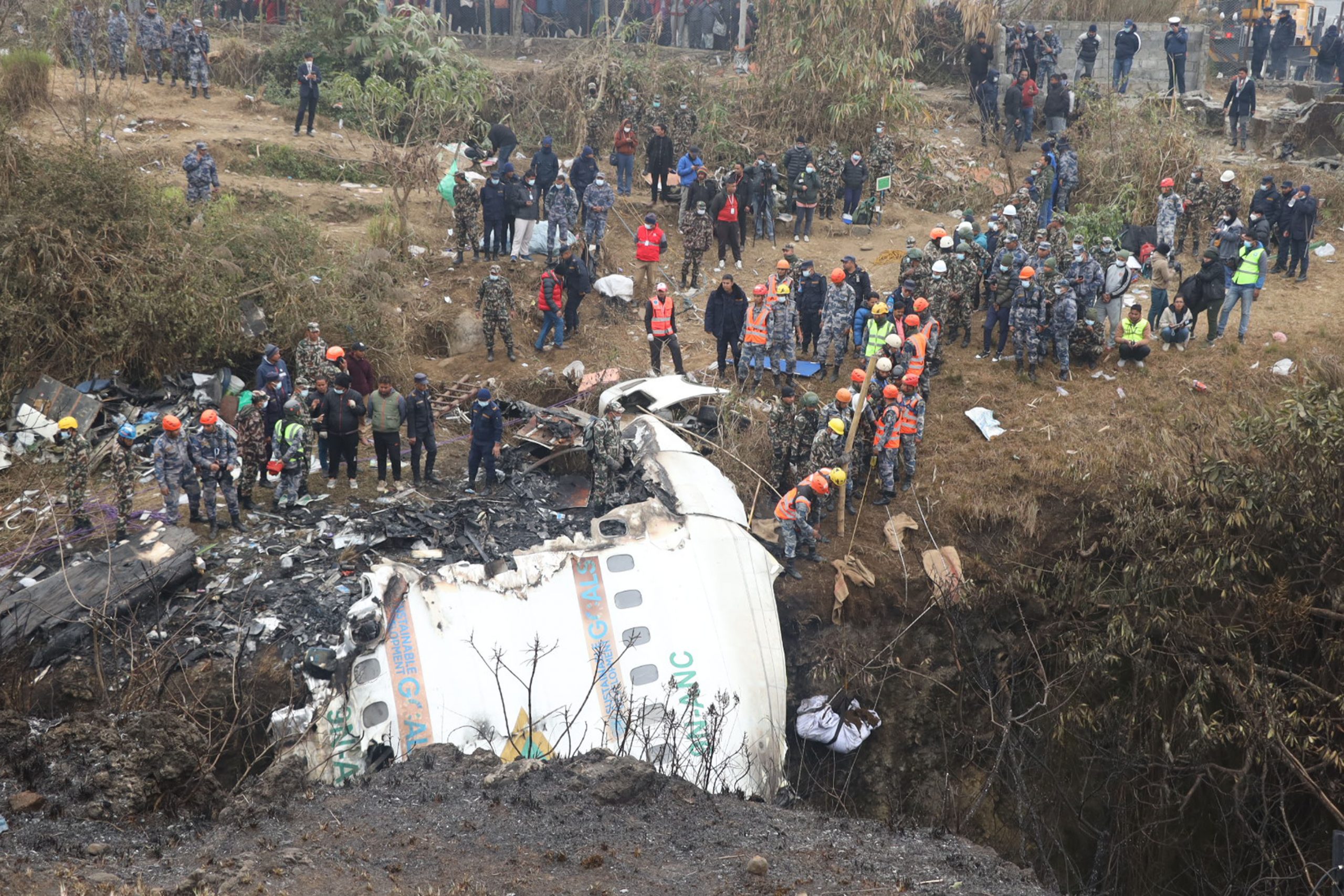 Photo: RSS
---
No ads found for this position
Kathmandu, January 18. Pokhara District Administration on Tuesday confirmed that 71 dead bodies of the Yeti Airlines tragedy have been recovered from the crash site. 
Guru Datta Dhakal, assistant chief district officer of the Kaski district told reporters that 69 bodies had been recovered by Monday evening. "Two bodies were found on Tuesday. Legs supposed to be of the 72th person have also been recovered. we're yet to ascertain it," Dhakal said.
48 dead bodies were airlifted to Kathmandu for conducting post-mortem examination at Tribhuvan University Teaching Hospital in Maharajgunj. These include the bodies of foreign nationals, crew members, and unidentified individuals. The remaining bodies were examined in Pokhara.
Anil Kumar Shahi, the Assistant Chief District Officer, told reporters that 22 bodies examined in Pokhara have been handed over to their families and relatives. 
Dhakal also confirmed that both Black boxes have been recovered from the crash site. 
Yeti Air Tragedy – Nepal's deadliest plane crash in three decades
A twin-prop turbojet-powered ATR 72-500 passenger aircraft of Yeti Airlines was scheduled to fly from Kathmandu's Tribhuvan International Airport to Pokhara's newly built International airport on Sunday.
While on a final approach to Pokhara International Airport, the 9N-ANC aircraft crashed at a nearby gorge of the Seti river.
The flight with callsign "YT691" was carrying 68 passengers and four crew members on board, which included 67 men, 25 women, three children, and three infants.
The flight took off at 10:32 am on Sunday and crashed at about 10.56 am. There has been no sign of survivors.
Sunday's tragic incident is Nepal's deadliest in the last 30 years. It occurred only 15 days after the Pokhara International airport opened for business.
No ads found for this position
Facebook Comment
---
No ads found for this position