Interfaith Conference in Jakarta called for Peace in the Middle East
No ads found for this position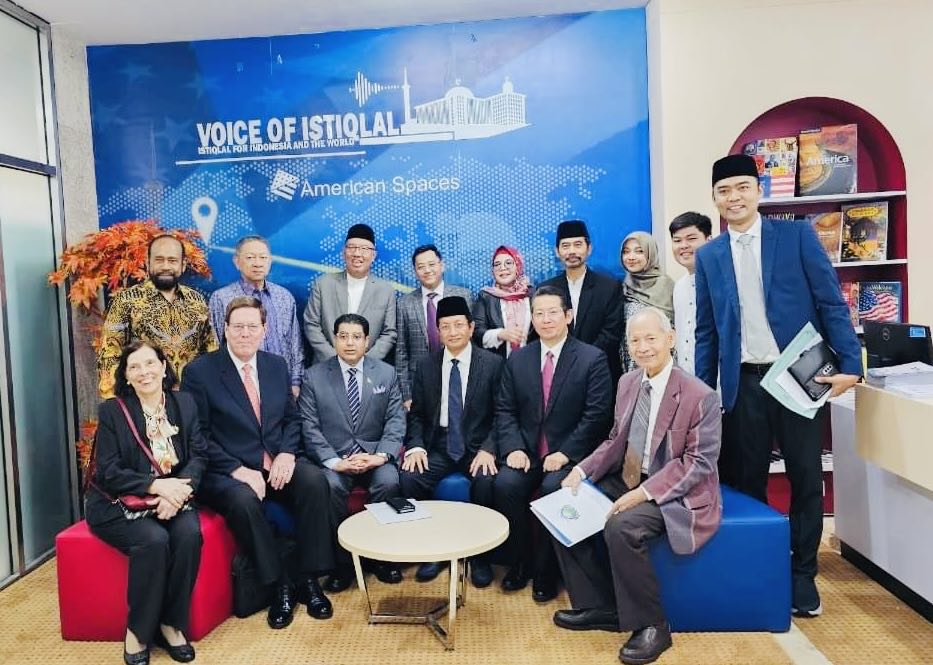 No ads found for this position
Jakarta, Oct. 17: An international peace conference called for religious harmony, dialogue, and calm as tensions flared in the Middle East. The Universal Peace Federation (UPF) and the Voice of Istiqlal (the VOIST) co-hosted a 1-day program on Oct. 16, 2023, at the Al-Fattah Hall of the Istiqlal Mosque in Jakarta, Indonesia.
The theme for the event was, "The Role of Governments, Civil Society and Interfaith Cooperation in Nation Building." Nearly 100 participants from politics, academia, and all faith traditions attended.
The program began with representatives from six religions pouring water into one bowl symbolizing their common quest for peace. Prof. Dr. K.H. Nasaruddin Umar, the Grand Imam of the Istiqlal Mosque, offered prayers and then welcomed the delegates.
He highlighted the extensive interfaith work of Istiqlal Mosque and spoke about a recently opened tunnel (Tunnel of Silaturahmi or tunnel of friendship) connecting his Mosque with the oldest cathedral in Indonesia which symbolizes interfaith cooperation and fraternity. He also mentioned that Istiqlal has a role to embrace any faith and tradition. "The Istiqlal is there not only for the Muslims, but also for everyone regardless of their religious background," said the Grand Imam.
UPF is an international and interreligious network of individuals and organizations dedicated to achieving world peace. It was founded by Dr. Hak Ja Han Moon and her late husband Rev. Dr. Sun Myung Moon. Two UPF associations were part of this event, the International Association of Parliamentarians for Peace and the Interreligious Association for Peace and Development.
As an NGO in general consultative status with the Economic and Social Council of the United Nations, UPF supports the work of the United Nations, particularly in the areas of interfaith peacebuilding, peace education, and the strengthening of marriage and family with programs in over 150 nations.
The Chairman of the International Association of Parliamentarians for Peace in the Asia Pacific region, Ek Nath Dhakal, lawmaker and a two-time government minister from Nepal, noted that in today's world there is conflict and terrorism in politics, society, the economy, culture, and even in religion. As a result, our common core values are being eroded. Dhakal then called for action saying, "The global community should come together to bolster democracy and its institutions while condemning all forms of terrorism through unified efforts."
Other speakers at the conference included: Hon. Yasril A. Baharuddin, Chair, Prof. Dr. Alwi Shihab, former foreign Minister of Indonesia and President's Special Envoy to the Middle East and OIC (2015-2019), International Association of Parliamentarians for Peace – Indonesia; Amb. K.H. Abdul Wahid Maktub, former Indonesian Ambassador and Chairman of Advanced Indonesian Network; Hon. Dave Laksono, Member of the House of Representatives; and Pres. Masaichi Hori, President, Family Federation for World Peace and Unification Asia Pacific were among others.
Speakers and participants conveyed a growing concern related to the Israel and Palestine conflict. They condemned violent hostilities against civilians, urged key actors to provide emergency assistance to all civilians, and for an immediate ceasefire of hostilities.
Two sessions were held in the afternoon, respectively entitled: "Common Ground for Religious Harmony, Lasting Peace and Security" and "Interfaith Youth Forum for Peace and Harmony."
No ads found for this position
Facebook Comment
---
No ads found for this position