Deciphering RAW Chief's abrupt visit to Nepal
No ads found for this position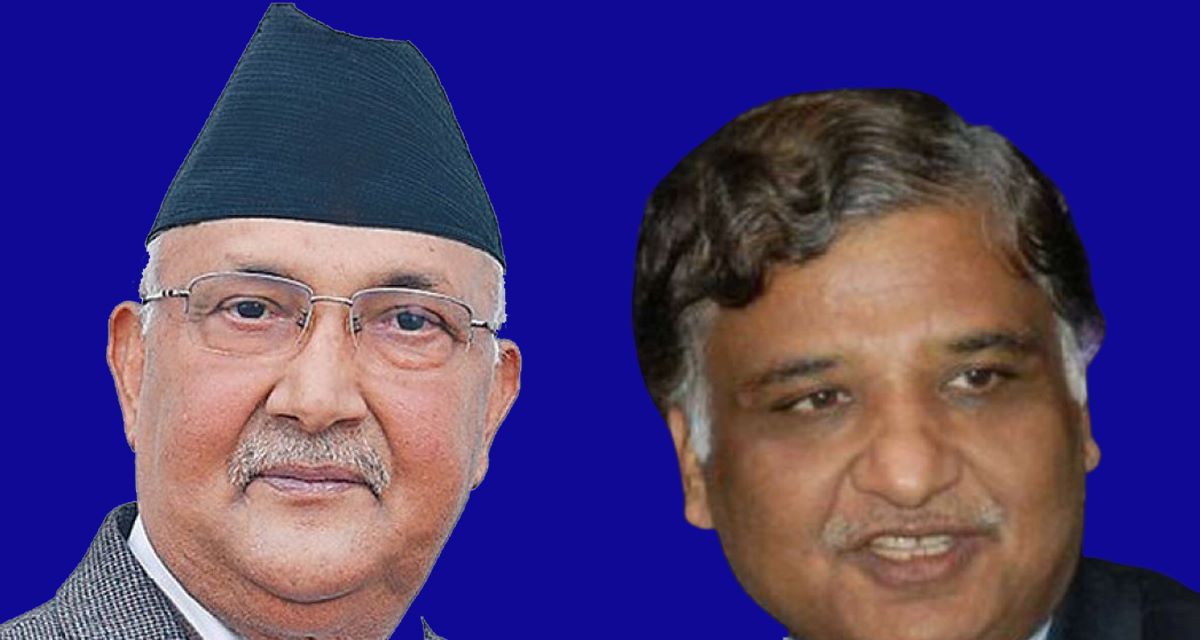 No ads found for this position
Kathmandu. Samant Kumar Goel, Chief of India's intelligence agency Research and Analysis Wing (RAW), returned home Thursday morning on board a special aircraft of the Indian Air Force.
Goel returned to Delhi after meeting a host of leaders in Kathmandu, including Prime Minister KP Sharma Oli.
The Oli faction now claims that dialogue with India would commence after this visit. Sources claim that talks during Goel's visit centered on the probable dialogue between foreign secretaries and foreign ministers following the visit of the Indian Army Chief General Manoj Mukund Naravane.
Due to the abject failure of the Indian intelligence agencies during the promulgation of Nepal's constitution as well as in the course of several political developments thereafter, Nepal-India relations have deteriorated like never before. Prime Minister Oli has in the past has openly blamed the Indian spook agencies of attempts to destabilize Nepal through the toppling of governments.
Ever since he became prime minister, Oli has been successful in inciting anti-India sentiment in Nepal. Oli had been consistently claiming that bilateral talks would only be held at the political level and not at the bureaucratic or intelligence levels. India, however, had totally snubbed Nepal after it issued a new political map which included the encroached territories.
In a startling turn of events, however, as if capitulating to Indian desires, Oli gave a red carpet welcome to Goel Wednesday night. Reportedly, Indian spook Chief Goel and Oli met until midnight. Many believe that since Oli's attempts to make a breakthrough via political and diplomatic had failed to generate any tangible results, he had opted to pursue the route via Indian spooks.
As soon as he learnt about Goel's arrival in Kathmandu, Nepal Communist Party (NCP) Chair Pushpa Kamal Dahal 'Prachanda,' reportedly called Oli to express his concerns.
Sources close to Prachanda mentioned that Oli talked to Prachanda as if he was not aware of the Indian intelligence chief's visit. This reportedly irked Prachanda and raised further suspicion of Oli.
Although Goel's abrupt visit at tumultuous period in Nepali politics has created ripples, it is presumed that Oli had mobilized his contacts for quite some time to smoothen ties with India and to facilitate this visit.
At the request of the Indian side, Oli did not utter a word regarding the ongoing territorial dispute between Nepal and India during his recent address to the United Nations General Assembly. India would have been in an awkward position in the international arena had Oli raised the issue during his address.
Therefore, India has been successful in convincing Oli not to speak on the matter at the UNGA. Furthermore, Oli had called the Indian Ambassador to Nepal at his residence for a lengthy discussion on various bilateral issues including Goel's visit.
Sources claim that Goel's success would be measured based on the course of the upcoming foreign secretary and minister level talks. It is being presumed that Goel presented a plan in Baluwatar whereby Nepal would raise the Kalapani border issue during the planned talks only in a simple manner and the minute of the meeting would state that both the sides would discuss and try to resolve the dispute through the existing bilateral mechanisms.
India has gradually fortified its presence in Kalapani and has also stated that it cannot remove its forces from the area citing threats to its national security from China as well as the growing influence of the country in South Asia.
In terms of regional power balance, India finds itself in a difficult position at the moment. At a time when its relations with almost all of its neighbors have deteriorated, India knows that retreating from Kalapani would be tantamount to losing against China. Moreover, New Delhi's insistence that Nepal should not get involved in the ongoing dispute between India and China signals the lack of proper homework on part of the Oli government to remove India's control over the Kalapani area.
Nationalists across Nepal, who had rallied behind Oli for his nationalist stance against India, are appalled by Oli's volte face. Through the official visit of the chief of the Indian spook agency, India has been successful in demonstrating how Oli's anti-India stance has been tamed. This certainly will be translated as India having an upper hand.
Indian side has widely propagated that the RAW chief's visit had taken place as per Oli's desires. Therefore, the prospect of the Indian spooks getting back to micro-management roles in Nepal has risen exponentially after this recent visit.
If the government fails to assert and resolutely maintain its position on the Kalapani border issue, the nationalist stance previously taken by Prime Minister Oli will prove to be the biggest political charade in Nepal's history.
No ads found for this position
Facebook Comment
---
No ads found for this position