U.S. Ambassador meets PM Oli to discuss Biden's global priorities
No ads found for this position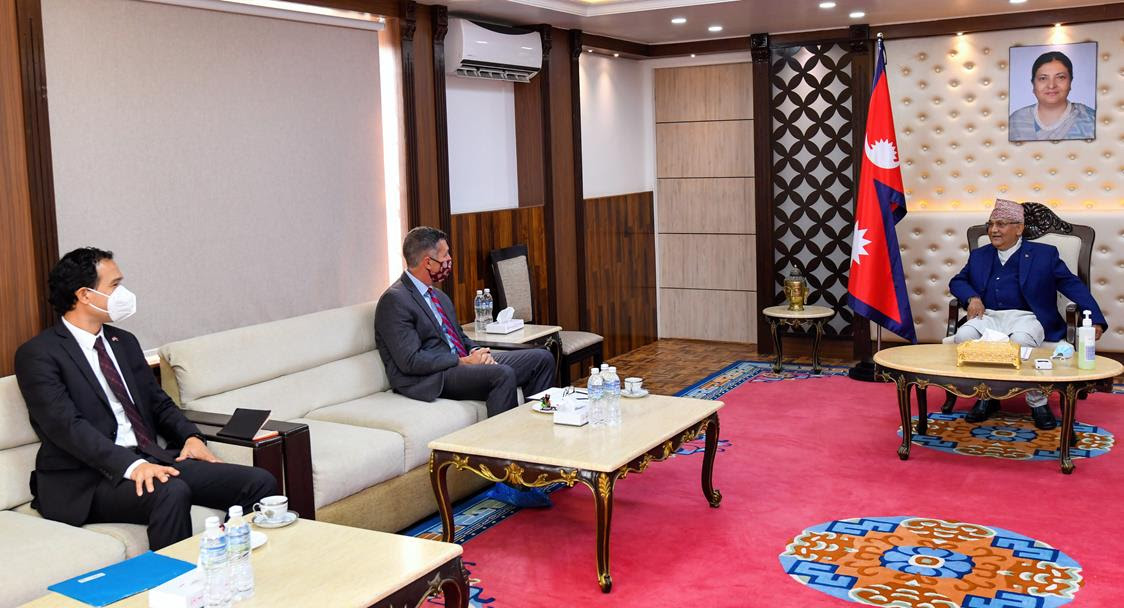 Photo by U.S. Embassy in Nepal
---
No ads found for this position
Kathmandu, January 22.  The U.S Ambassador to Nepal, Randy Berry on Thursday met Prime Minister KP Sharma Oli to discuss the top global priorities of the newly elected US President Joe Biden. 
Media reports suggest that the top priorities of Biden's administration will be to end the Covid-19 pandemic that has already killed more than 4 lakh Americans and to promote immigration, the environment and racial justice.
According to the official statement released by the US Embassy, US President Biden believes in international cooperation to solve common challenges like COVID-19. Therefore, his administration is seeking to hold hands with democracies around the world, including Nepal, to solve the global challenges that  "no single nation can face on its own". These global challenges range from the problems of climate change to nuclear proliferation, cyberwarfare and pandemic such as COVID-19.
The Embassy recognized Nepal in the front lines of climate change and expressed the desire to help make the "Sagarmatha Sambaad"  dialogue a success. Ambassador Berry said that he is looking forward to working together on these issues. The U.S Ambassador is also planning to organize a high-level meeting with the Nepali government and political party leaders to discuss the global agendas of the presidential administration. 
On his first day as the 46th president of the United States, Biden signed 17 executive orders out of which 12 were reversals to Trump's orders. One of the orders is to restore the U.S. membership in the World Health Organization.
In the last few days, ex-president Trump's administration has been facing severe criticisms. Syria on Wednesday demanded immediate withdrawal of US forces from its territory claiming that Trump's administration had involvement in destabilizing Syrian Politics by encouraging separatist movements and facilitating terrorist groups. 
On Thursday, the Government of China imposed sanctions against 28 outgoing Trump officials claiming that these former officials had interfered with the US-China bilateral relations.
Also Read,
Joe Biden signed 17 executive orders on his first day at office
No ads found for this position
Facebook Comment
---
No ads found for this position